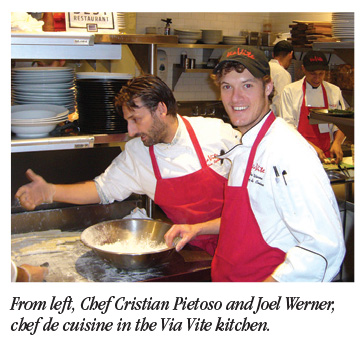 In Greater Cincinnati, Fountain Square is the epicenter…where you'll find Via Vite restaurant and a weekend brunch like no other.
Via Vite's brunch is special in many ways, being offered Saturday and Sunday, from 10 a.m. to 3 p.m…two days, and longer hours than most. The real distinction is to be found on the menu of this popular Italian restaurant. The selections allow for modest appetites to hearty eaters, all with an Italian twist.
"Via Vite prides itself on being the most authentic Italian experience available in Greater Cincinnati," says Shawn McCabe, private events manager at the restaurant. "We utilize the absolute freshest ingredients, we have a scratch daily kitchen with the finest culinary talent, directed hands-on by Chef Cristian Pietoso, as well as Joel Werner, chef de cuisine."
So what will you find on this remarkable brunch menu? The standout favorite, according to McCabe, is the Tuscan breakfast: a plate of pork belly, fagioli (beans, Italian style), fried egg and grilled bread. Now that's Italian!
Another dish in the hearty category is the goetta hash, combining deeply Cincinnati (the goetta) with especially Tuscan Italian (the hash). The hash is near and dear to Chef Cristian Pietoso's heart, he having grown up on it in his native Tuscany.