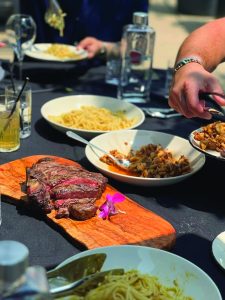 June is National Steakhouse Month and what better way to celebrate than visiting one of two sister restaurants who specialize in Certified Angus Beef® Prime steaks? Prime Cincinnati, located in downtown Cincinnati, and its suburban counterpart Primo Italian Steakhouse, located in Middletown, both offer an array of special cuts on their Steakhouse Month menus.
What does it take to be a part of the Certified Angus Beef® brand label, you ask? The beef must be inspected using the USDA's Prime standards and then must meet all ten of the CAB® brand's science- based specifications to qualify. Only 3% of beef achieves the exacting standards of Certified Angus Beef® brand Prime and Chef Shawn Heine is proud to offer this superior quality at both Prime Cincinnati and Primo Italian Steakhouse.
Prime Cincinnati's Steakhouse Month menu includes options of a 6oz Wagyu Filet, 12oz Filet, 16oz Ribeye and 16oz Kansas City Strip. Coupled with your choice of salad or soup and one side, guests can make their selections all month long for just $100.
Primo Italian Steakhouse's June menu, designed to share by couples, can be ordered for just $160. Offerings include options of a shared 30oz Tomahawk, 32oz Porterhouse or twin 8oz Filets, with choice of one salad or soup and one side per person.
And while the steaks are always the feature at both locations, guests can also indulge in one of the many other aspects of each restaurant. Choose to dine on a luxurious outdoor patio, enjoy Happy Hour at the gorgeous bar or become members of an exclusive bourbon experience – speakeasy style – through the doors of Unexpected.
Whether you choose to visit the seasoned Prime Cincinnati, or the brand new Primo Italian Steakhouse, the June Steakhouse Menus (and all each restaurant has to offer) will be well worth the trip.