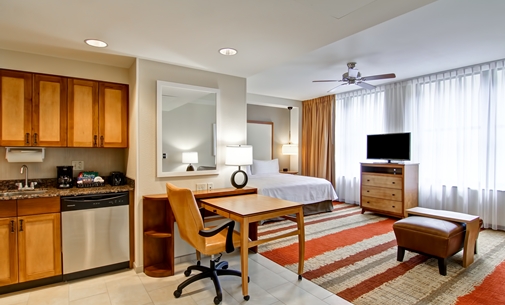 One of the most fabulous buildings…..which once housed the Cincinnati Enquirer, is home to a brand new concept in Cincinnati: The Homewood Suites (along with The Hampton Inn…a duel hotel). This new gem in the Queen City's crown features a 105-room Homewood Suites situated on the buildings' newly renovated upper floors. The historic integrity of the structure and its interior were preserved as much as possible.
When you enter the building, the first floor lobby features marble surfaces, bronze ornamentation, stone-carved detail work and large chandeliers. Motifs featuring elephants, dragons and squirrels are displayed throughout, and a two-foot diameter brass sculpture ("The Naked Printer") is embedded in the floor. Guests can walk up the "grand stair" or take the elevator to the second floor, which is where you check in and enjoy the fitness center, library, business center, billiards and the separate Homewood and Hampton lounges.
Hampton Inn is housed on floors nine through 15 (there is no 13th floor, of course) and caters to business and weekend leisure travelers. Homewood Suites on floors four through eight focuses on extended-stay travelers; each room has fully-equipped kitchens. Both hotels offer complimentary breakfast and free Wi-Fi. Valet parking is available in the Macy's headquarters garage, adjacent to the hotel. You're just a 17-minute drive from the Cincinnati/Northern Kentucky Airport via I-75 and in walking distance of Cincinnati's popular eateries, lively nightlife and unique shopping opportunities. The hotels are also close to entertainment venues such as U.S. Bank Arena, Great American Ballpark, Paul Brown Stadium, the Taft Theatre and the Duke Energy Convention Center.
Business…pleasure…leisure…it doesn't matter what you're coming to Cincinnati for, the new Homewood Suites in Downtown Cincinnati, along with the adjoining Hampton Inn, will fit the bill.
Cincinnati-themed artwork and art inspired by the newspaper and its former building are on display throughout 617 Vine.