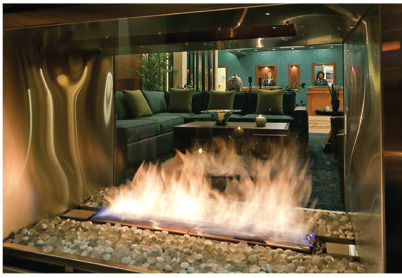 Cincinnati's downtown Residence Inn positions itself in first place among all other Residence Inns in the Marriott chain. There are 652 of them, and being #1 is quite an accomplishment. Just in case the number-one ranking inside the Marriott chain might not be enough….Cincinnati's downtown Residence Inn was ranked by Trip Advisor at number 19 in customer satisfaction among 85,000 lodging properties nationwide in 2013.
"We take very good care of our guests, and we try to make absolutely sure that no guest ever leaves this hotel feeling less than fully satisfied," said Jason Druso, general manager. "We want everyone who stays with us to feel at home and know that we care about their comfort and satisfaction."
Druso states that the hotel has many outstanding amenities. For one thing, this Residence Inn is a downtown property, but on the fringe of the hustle and bustle of the downtown grid. The entrance overlooks a park and walking/jogging trails are nearby. Few lodging properties anywhere have that going for them, much less a city-based one.
Another advantage is that the property is a suite hotel in Cincinnati's downtown, so many of the hotel's guests are longer stay. There's a high concentration of business guests staying at the property, many of whom are repeat customers. Suites are 30% larger than most suite hotels in the area, and feature kitchens. Vacationers and sports fans also make up a sizeable portion of the guest list at this Residence Inn, because of it's convenience to Great American Ballpark, US Bank arena, the Taft Museum of Art, OTR, and to the Banks entertainment area of the city.
The Residence Inn Downtown also has an expanded restaurant service, offering a complimentary breakfast to guests, and an evening menu for those who want to eat at the hotel. There is a lush, yet cozy lounge area adjacent to the restaurant where guests can socialize.
In addition, the hotel features a rooftop bar called Top of the Park. The bar is a focus for private parties and business meetings, as well as being open to the public Tuesday through Saturday, when not booked for private events. The Top of the Park offers panoramic views of Mount Adams and the Ohio River and Kentucky shoreline.
If you've never been, just stop in and take a peek……what a gem in Cincinnati!