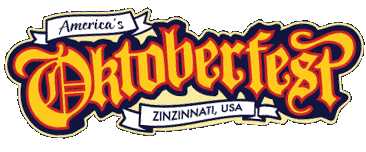 Cincinnati, also known as the Queen City, is a city rich in history and culture with exceptional visual and creative arts, professional sports teams and top notch museums. Whether you are a resident or a visitor there is always something to learn, see and do in Cincinnati and our neighboring cities of Covington and Newport. For those reasons and many more, it's no surprise that in 2012 Lonely Planet Travel Guide named Cincinnati number three of the top ten travel destinations in the United States.
Cincinnati offers all the benefits of larger cities like Chicago and New York while maintaining the small hometown hospitality. In this section we like to bring interesting facts and opinions. This is what we have for you in this month's issue:
The influence of the German settlers is seen and celebrated in "Zinzinnati" from her architecture and breweries to the Oktoberfest celebrations that take place all over the Greater Cincinnati and Northern Kentucky area. The neighbor cities of Cincinnati, Covington and Newport all have Oktoberfest celebrations as well as several communities including the Cincinnati Donauschwaben Society and the Germania Society of Cincinnati.
We don't have the data from all events but the numbers would be astonishing, we do however have the numbers from Oktoberfest Zinzinnati. According to Cincinnati USA Regional Chamber who organizes the event festival goers will on average consume:
• 87,542 metts
• 80,500 bratwurst
• 64,000 sauerkraut balls
• 56,250 sausages
• 24,640 potato pancakes
• 23,004 soft pretzels
• 20,000 cream puffs
• 16,002 strudel
• 6,000 jumbo pickles
• 3,600 lbs. sauerkraut
• 1,875 lbs. German
potato salad
• 702 lbs. Limburger cheese
• 700 pigtails
• 400 pickled pigs' feet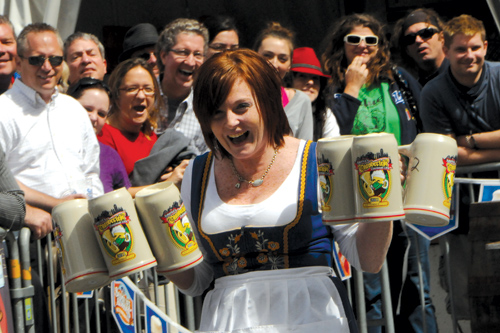 OKTOBERFEST-ZINZINNATI, USA
Festival Hours:
Friday, Sept. 20, 2013
5 p.m. – midnight
Saturday, Sept. 21, 2013
11 a.m. – midnight
Sunday, Sept. 22, 2013
11 a.m. – 10 p.m.
Where: On six blocks of Fifth Street, from Vine Street to Sentinel in Downtown Cincinnati.
Cost: Free!
Parking: Convenient parking can be found in the Fountain Square Garage for only $5. Parking info.
Features:
NEW: Friday Opening
Friday, Sept. 20, 2013
5 p.m. – midnight
7th Annual Hillshire Farm
Running of the Wieners
Friday, Sept. 20, 2013
Noon – 1 p.m., Fountain Square
Gemuetlichkeit Games
Friday, Sept. 20, 2013
5 p.m., Fountain Square
Opening Ceremony/Keg Tapping
Saturday, Sept. 21, 2013
11:30 a.m., Fountain Square
The World's Largest Chicken Dance
Saturday, Sept. 21, 2013
1:30 p.m., Fountain Square
Samuel Adams Stein Hoisting Championship
Saturday, Sept. 21, 2013
5:00 p.m., Fountain Square
Hudepohl Glockenspiel
Every hour on the hour,
at Fifth and Broadway