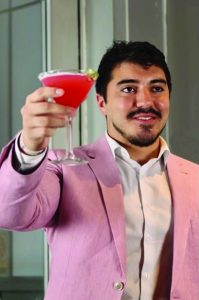 Sebastian Castillo has been hard at work this year… Not only with running 2 fabulous restaurants… he is now wrapping up his campaign for "Real Men Wear Pink" for the American Cancer Society. With a goal of $75,000, his campaign Finale Event on October 28 At Nowhere Else Farm…A fabulous dinner and concert, with round-trip transportation from Prime Cincinnati downtown, is a MUST ATTEND! 
The timing couldn't be more perfect as the event is taking place during Breast Cancer Awareness Month… a disease affecting almost every family. 
Breast cancer affects everyone – it doesn't matter if you're a man or a woman. That's why Sebastian has stepped up to fight breast cancer.  By raising money and awareness through Real Men Wear Pink, Sebastian is helping to save more lives. 
Sebastian Castillo states, "Why I Support the American Cancer Society…Every day, the American Cancer Society is saving more lives from breast cancer than ever before. They're helping people take steps to reduce their risk of breast cancer or find it early, when it's easier to treat. They provide free information and services when and where people need it. They fund groundbreaking breast cancer research and they're working to ensure access to mammograms for women who need them.
I am most excited to make an impact. Being raised by my mother while my father was at work, we developed a relationship that could never be replicated or traded for anything in the world. I am genuinely excited to be able to be a part of a group that will raise money to put an end to breast cancer."
Castillo is one of the Top Ten Real Men Ambassadors, and won the 2022 Dancing for the Stars! 
Specials thanks and support to Jeanette Alteneau from TriHealth,  and Deborah Morgan of Cincinnati Arts Association for nominating Sebastian! 
The final event on October 28 at Nowhere Else Farm will be an evening to remember… A fabulous menu is planned with great music in a spectacular setting.
Do your part to help end Cancer…attend this event and contribute with a perfect evening dining and dancing under the stars! We will be there, and look forward to seeing all of you! 
For reservations and more event details…email
Zach@PrimeCincinnati.com