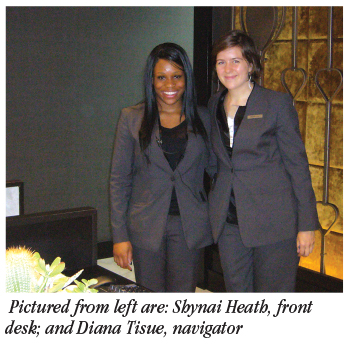 If "lifestyle brand hotel" means something to you, then so too should Renaissance Cincinnati Downtown, a lodging destination featuring a past as grand as the promise of its splendid future.
The newly opened hotel is in the historic and historically renovated Bartlett Building, designed by renowned architect Daniel Burnham, and opened for business in1901. For more than 100 years, much of the City's banking and commercial business passed through the offices of that building. Today, the building is another jewel in the necklace of Renaissance hotels in the Marriott chain that circle the globe.
"We worked with the Preservation Society (of Cincinnati) to do everything we could to preserve the wonderful (neoclassical) architecture of the first three floors," said Keoni Christensen, GM of the property. "Cities go through change, rebirth, and some of that has to do with renovating existing structures. The architecture and design of this building lent itself well to the Renaissance hotel concept."
The reason the Bartlett Building was a perfect fit for conversion to a luxury hotel is its original configuration. The first three floors contain the neoclassic design of Burnham—lots of granite, marble and exquisite detail. Those floors are the lobby and meeting room/ballroom spaces of the hotel. The remaining 16 floors would be demolished and reconfigured into plush hotel rooms and suites without worry over historical architectural preservation, according to Christensen.
"Our hotel is new and unique to this city. If lodgers want something more than a simple place to sleep, then they might consider a stay with us at the Renaissance hotel. We have a great downtown here in Cincinnati," he said, and if people want to be in the middle of that, then Christensen's hotel is central to the City's vibrant general renaissance.
The hotel has the décor of granite and marble in the lobby area. Off the lobby, a slightly elevated walkway to Burnham's, the BLD restaurant that is attracting more than just guests of the property. Attracting diners from outside the hotel is always a good sign for the restaurant. "Already, we have a strong lunch crowd," said Christensen.
For lunch, you'll find dishes such as Romaine Scampi, featuring grilled hearts of romaine, tiger shrimp, finished scampi style, with classic Caesar dressing and shaved Pecorino Romano. How about Quiche Lorraine? It's made with Swiss and gruyere cheeses, smoked bacon and sweet onion, and served with a salad.