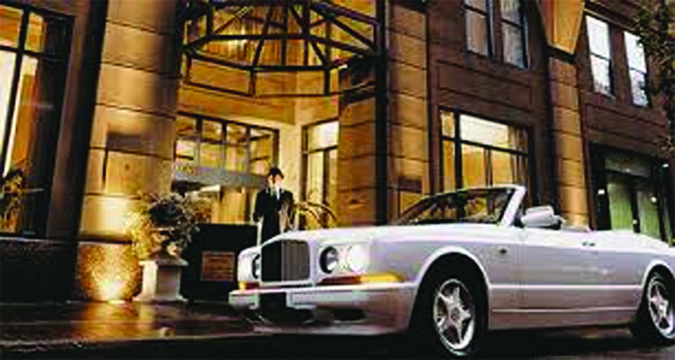 The Cincinnatian Hotel enjoys a long history as a premier place to stay in Downtown Cincinnati. Built as
The Palace Hotel in 1882, the 8 story structure then was the tallest and perhaps the most luxurious in the city at the time.
The hotel, designed by Samuel Hannaford, incorporated 300 guest rooms, with shared baths at end of corridors….they've come a long way!! Major renovations in the 1980's converted the hotel to 146 guest rooms with private baths, and eight suites. The center of the hotel features a striking atrium with a vast skylight, creating a spray of natural illumination during daytime hours.
The GM at the Cincinnatian, Martin Pittman, and Miranda Bottom, Lead Concierge, go above and beyond for their guests. Not only do they make reservations at restaurants around town, they'll even go and meet the restaurant GM for the personal touch.   Especially with all the wonderful, new restaurants popping up all over Cincinnati!
Service for guests at the Cincinnatian covers a wide range, from simple requests to planning an entire schedule of activities during the stay. A guest may want two tickets to a live show, the symphony, or a concert….transportation to get there, maybe a pop in at a restaurant or two, or even a surprise evening for a special occasion. Guests at the Cincinnatian are typically used to impeccable service, exactly what the staff excels at…….making sure all details are worked out perfectly. It's the goal of all the staff at the Cincinnatian, from the GM, to the concierge, and the entire crew…. impeccable surroundings and service, with a smile.