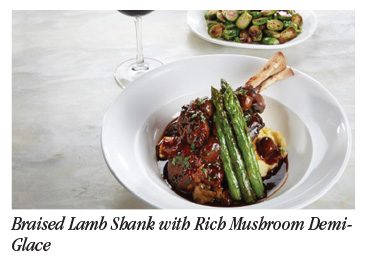 August is THE month to visit Palomino Restaurant & Bar overlooking Fountain Square in downtown Cincinnati.
Why? Because there are summertime specials you can enjoy all month long, according to Nelson Castillo, GM at Palomino. He related three deals in place for those who visit Palomino during August.
"We wanted to create excitement for the summer, so we have the $10 lunch special for all our guests," he said. The $10 luncheon special includes these choices: the bianco pizza; the salsiccia fresca pizza; the pollo e spinaci pizza; any soup and salad combination; and the pasta with soup or salad combination, which must be accompanied by the purchase of any beverage. The $10 lunch special will spill over into September as well.
The "Play of the Day" Happy Hour is another summertime deal at Palomino. Anytime the Cincinnati Reds play a home game, head to the Palomino lounge and enjoy $2 draft beer, $4 bloody Marys, and $5 artisan pepperoni pizzas all day. The special game-day pricing is available before, during and after the games, and the lounge at Palomino is a great gathering place for socializing. So game-day, head to Palomino's lounge.
A third opportunity to enjoy a great deal at Palomino is Greater Cincinnati's summer Restaurant Week. The week is August 11-17, and participating eateries generally offer a special meal deal. Palomino has taken that deal to a higher level, according to Castillo. "We wanted to make our offering something really special, really top notch. So we included a diner's choice of a glass of house wine or draft beer to the fixed-price 3-course meal. And also, we created a special Chef Selection menu with a variety of entrée items on it, so that our guests can pick from a variety of meals rather than just one or two," he said.
The Chef Selection menu includes two steak features, along with seafood and other options. Palomino has raised the bar even farther for Restaurant Week by featuring USDA prime steaks. One is an 8-ounce New York strip with creamed spinach and herb-roasted redskin potatoes. The second is a 12-ounce rib-eye, lightly blackened, and served with Yukon mashed potatoes, caramelized onions and mushrooms.
The Palomino Restaurant Week entry is a knockout, based on what we at Key magazine know about this annual event in Greater Cincinnati. Combined with the $10 lunch special and the Play of the Day Happy Hour, visitors and area residents alike have three delicious ways to experience one of Cincinnati's finest fine-dining restaurants for less.
You can learn more about Palomino specials and other happenings on Facebook social media or check out the full menu at www.palomino.com.