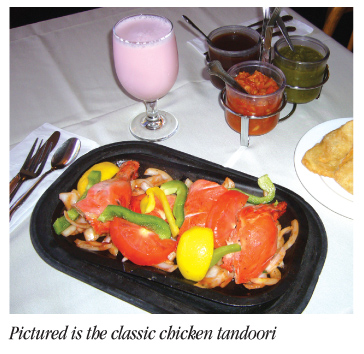 In Greater Cincinnati, being in the restaurant biz for 20 years is a milestone few eateries reach. Those doing so are pleasing customers with good, quality food and consistency in the kitchen. The Ambar group of restaurants is doing just that, according to Jesse Singh, founder and owner of five locations of Indian eateries in the Greater Cincinnati area.
So what's the secret to his success? "We are celebrating 20 years and there is no secret recipe or anything. The secret is quality, and consistency. Nothing frozen here (except spinach); we use all fresh ingredients. Our chicken is fresh, not frozen, and that costs more (about $40 more, per crate, he said). But it is better quality, giving you better flavor and a better dish."
He mentioned other ingredients, too: "The same with our rice, basmati rice; higher quality than regular. Some Indian restaurants use basmati, but cut it with cheaper Asian rice. When you do that, there is a big difference in food cost, but the quality of the food is not good. We want the quality and the consistency, and that is why our customers keep coming back."
The Ambar group includes: Ambar, the original, in Clifton near University of Cincinnati; Baba India, in Oakley; Akash India, on 6th Street downtown; Kanak India, in Montgomery; and Guru India, off Buttermilk Pike in Northern Kentucky.
The cuisine at Ambar's five locations is Northern Indian in style, flavor and taste.
That means a heavy emphasis on vegetables, and the use of more cream and butter than in Indian food from the southern region of the country. Many believe that the British had the greatest impact on Northern Indian foods. Not so, says Singh: "Actually, the cuisine of Northern India was heavily influenced by Central Asia before the British came. Central Asians were meat-eaters, and before those peoples came, Indian cuisine was primarily vegetarian. Not many animal products at all.
"What the British did was send the tastes of India around the world," he said. At that time in their history, Englishmen were proud of saying the sun never set on the British Empire. Wherever British influence was present, so too were some of the cultural influences Imperial England brought with it from other parts of the world. A taste for Indian food was one of those.
So the cuisine of Northern India is the specialty of the house. Ethnic Indians favor Ambar over other Indian eateries because the food is authentic, and because there are many vegetarian selections, according to Singh. "Vegetarian food is healthier for you—that's the common perception in India. Garlic and ginger are good for you, and we use it in our cooking. And if you want to enjoy all the flavors, don't overdo the spiciness. We can do each dish as spicy as you want it—one to six (six is hair-on-fire hot!). I recommend a three or four at most, because you want to taste all the subtleties of the flavors."
"At Ambar, we highlight what our customers like to eat. Spinach dishes are very popular; chick peas, lentils, rice dishes—all very popular. Also, popular are the chicken, lamb and fish dishes."
Among the most ordered dishes is the chicken tikka masala, featuring lightly broiled chicken, cooked in a savory tomato, onion and butter sauce. Eaten with fresh-made naan (Indian style flatbread), and this dish will wow you. But there are dozens of dishes on the Ambar group menu. We at Key are betting you'll enjoy any one you choose.
See you at one of Ambar group's five locations.