Blue Wisp offers dining and entertainment in one place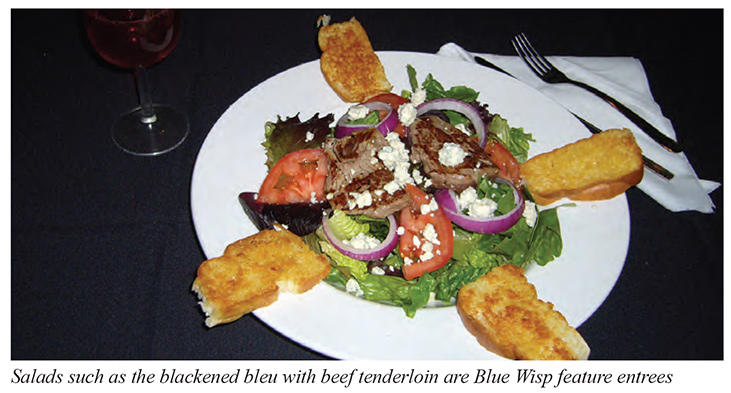 Visitors looking for a good night out that includes a tasty dinner, drinks and entertainment will find all of that at the Blue Wisp in Cincinnati's downtown.
Some say the Blue Wisp is mostly a live music venue, with a focus of all types of jazz. Others say it's a great dining destination. Still others love the giant bar area, where the taps are numerous, the bottles many, and the bartenders are as top-shelf as the libations.
Key magazine gives the Blue Wisp thumbs up in all three categories. The Blue Wisp is unique in the Greater Cincinnati market. First, the food focus is on entrée dishes that you'll recognize, appreciate and find upscale without being above understanding. You know what we mean: accent marks over letters, ingredients one cannot pronounce and haven't heard of, even if one could pronounce them.
Not at Blue Wisp. Menu choices are in an exquisite middle area where diner satisfaction is concerned—neither high-brow nor fare we know as "bar food." For example, cider salmon is an entrée to which Key gives a first in class. The salmon is fresh and top-quality, and the dish is made with fresh apples and pan-made sauce; nothing bagged or boxed in the whole recipe, according to Ken Moore, GM.
Fact is the Blue Wisp kitchen is a farm-to-table practitioner, relying on our own vaunted Findlay Market (see cover story) and local growers whenever possible. Meats? The kitchen cuts its own steaks, for example. Plus, you'll find no cryo-vac pre-packs in the Blue Wisp kitchen, Moore stated. "Our Cuban sandwich is a good example. We do it all here: slow-roasted pork, to which we add ham, smoked pork belly and Swiss cheese, top it with Dijonnaise sauce, press it down with some pickles. That's a sensational sandwich!
"The same with our beef tenderloin medallions, which is one of the most-ordered entrée dishes on our menu. We do that in a blueberry demi-glace and roasted bleu cheese crumbles, served with a side of smashed potatoes and seasonal vegetables. Also, our entrees come with a side salad, bread and butter. So, we offer a good meal at an attractive price in a setting where you will enjoy fine music and some of the best jazz talent on the circuit today. That makes the Blue Wisp a place like no other in the Greater Cincinnati area, and it's a true highlight for adults visiting the area."
And what about that jazz, you ask? Among the "name" acts that appear at the Blue Wisp are performers such as Stanley Jordan, Benny Gholson of sax fame, and the Ramsey Lewis trio.