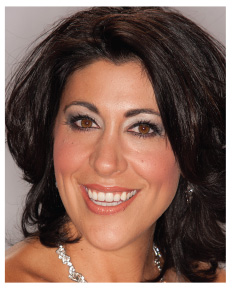 Cara d'Ambrosio may call her salon "Me Salon", but the way she and partner Sarah Renner do business, it's really the "YOU" salon.
In the over twenty years she's been in the business, she's learned that there's more to hairstyling than just cutting off a few inches or covering up the gray. "You need to create an intimate experience, and focus on the individual," says Cara. That's where Me Salon comes in. After working in a typical salon with a number of employees, Cara decided it was time to open a more intimate salon that offered a specific, individualized experience. By partnering with former employee Sarah, she was able to bring this dream to light.
Cara and Sarah are getting ready to open their chic studio, where they will be practicing a French style of cutting and coloring called "Jacques Dessange", named for the man who created it. This is a more precise method of hairstyling that provides a complete look by designing a style that works precisely with your own personal features, body type and lifestyle; after all, what looks good on your best friend or favorite actress won't necessarily look good on you. So Cara and Sarah will be your beauty experts, working closely with you to be sure that you not only leave with the style and color you want (and that makes you look fabulous), but with a look you can also recreate at home. It's their goal to make every style user-friendly, easily maintained and managed away from the salon.
Me Salon will still offer the same quality products you're used to getting from them, but in a more client-focused, elegant setting. Their new location in the Fields-Ertel Salon Lofts is being professionally decorated by Broad Spectrum, the same firm that handles Homearama designs. They will be offering their clients a selection of coffee, tea, wine and beer in their boutique salon setting. Me Salon will serve both men and women, and they prefer to refer to their clients as "guests", to help complete the whole experience of being pampered. They are confident that with their new location, combined years of experience and unique, high-end styling and coloring services, Me Salon will continue to be the only place the premier men and women of Cincinnati want to go for hairstyling services.