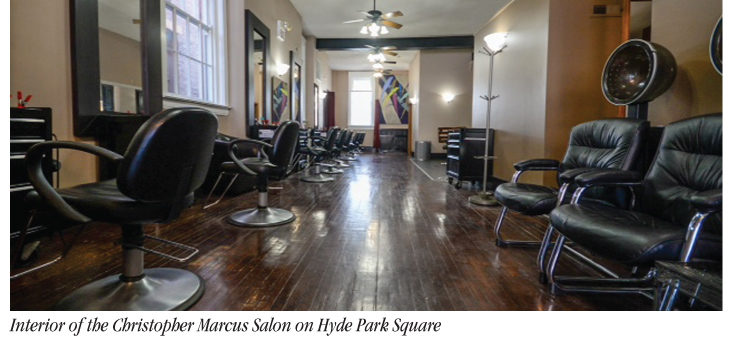 High-end salons can be a bit pretentious, a bit full of the prima donna factor. If you have ever been to salons exhibiting those characteristics, you know the attitude, right?
Christopher Marcus Salon on Hyde Park Square is high-end, but with a pleasant twist. No pretention, for starters. And no drama, either. So where we are with all that is high-end and laid back, providing hair, nail and skin services to discriminating women and men.
"We have an amazingly talented team of stylists here," said Mark Neff, the man who runs the show. He backed this up by saying that every one of the stylists and service providers has at least seven years' experience in their respective specialties. Neff said that talent brings confidence and self-assurance at the point it matters most—in serving clients.
Those attributes play into his team strategy. A team orientation means his staff works together in focusing on client needs. Egos do not get in the way of delivering good service. "No drama, here, so our focus can be on each and every customer who walks through the door."
Many visitors to Greater Cincinnati already know of the salon, because of its emphasis on time management, or said another way, being conscientious with the time of people on the go. "We offer manicures and pedicures, but also, we offer an Express Manicure & (or) Pedicure for our color clients," Neff said. "We make a real effort to conserve and effectively use the person's time."
The same is true for glycolic peels for the face, which the salon introduced as Skin Care on the Go. The treatment is designed to be a quick in-and-out service that may be done during a lunch hour or the like—30 minutes, and you're on your way.
Peels have become more than cosmetic, since the removal of skin reduces the risk of skin cancer by 70 percent, according to Neff. There is an anti-aging benefit as well, since the top layer of dead skin is removed. The treatment tricks the skin into rejuvenating itself, which helps with fine lines and wrinkles, making you look younger, he said.
Asked about hair makeovers, Neff said many clients come in wanting just that—a makeover. "People come in with a magazine and say: 'I want that look.' A picture is worth a thousand words, but there is more to it" he said. His stylists spend the time in consultation in the beginning—clearly establishing what the client wants or is looking for.
"A good stylist will take everything into consideration: face shape, texture of the hair, how much hair, the color, every aspect of the cut. Good consultation is what sets up success, and experience teaches you that," he said.
One new feature of his salon is the Skin Clinic Happy Hour—a group approach held at the end of the day. The HH is designed for 6-8 people, and along with wine and appetizers, the skin services are provided. It's a fun time, Neff said.
Both appointments and walk-ins are welcome, and the salon is open Tuesday through Saturday—closed Sundays and Mondays. See you at Christopher Marcus Salon!