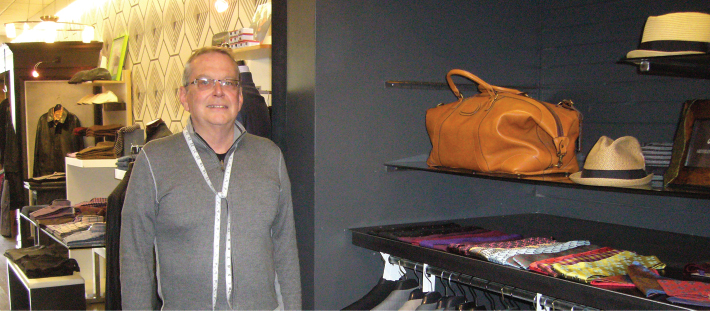 If fine clothing is important to you, then 45/46 Fine Men's Apparel is a place worth a visit while you are here in Greater Cincinnati. This men's apparel store is a retail establishment in the high-end tradition of men's stores, because of the hand-picked nature of what you will find on the racks and shelves, and in the swatch books.
Jim Young, the GM and buyer, had this to say about his selection: "I hand pick everything in here. I spend a lot of time at market, deciding what will go in my selection each season. Then I spend the extra time on how I want the shirt (or other garments) modeled—how I want the collar, the taper, the sleeves, the cuffs. So even though that fabric is available to everybody in the world, I've modified it—it's specifically made for this store."
That personal men's-wear insight shows in the shirts, sweaters and other garments that adorn the racks and tables of this shop. The patterns and styles are distinctive and fashionable. Your purchase becomes an image statement as well.
There is also a made-to-measure program at 45/46. Patrons can have suits, sport coats and shirts made by 45/46. The custom process allows a man to pick from fabric swatches for the suit, coat or shirt goods, and determine the style and fit of every aspect of the finished goods, right down to the button choices, and even the lining of the suit or sport coat. Young does the measurement personally, and follows through with the final fitting. If you have never had a suit of clothing or a shirt custom-made, the 45/46 shop is a place that will help you through the process with the utmost personal one-on-one service, according to Young.
The 45/46 apparel focus is on fine products that are made in the USA. Young pointed out several lines that are of US manufacture: "Even my denim is made in the USA," he said. The company is Citizens for Humanity, a jeans maker based in Los Angeles. Young claims to have the largest selection of Citizen's denim anywhere in the tri-state area, with more variety than any other outlet for the jeans.
In ready-made suits, the store carries American-made suits by Hart, Schaffner & Marx and Hickey Freeman. Both brands have been part of fine men's wear for generations. In shoes, Young stocks the Allen Edmonds line, and is the largest independent dealer in Ohio, Indiana and Kentucky for the American-made footwear.
Also, you'll find designer clothing by Hugo Boss, Ted Baker and other labels. Those products are manufactured abroad, and are offered in 45/46.
Those with gift lists to fill may want to consider the line of Korchmar leather goods offered at 45/46. Among the selections is a smart tan leather duffle of full-grain leather, featuring both handle and shoulder strap, and brass fittings. There are messenger bags and briefcases as well, all formerly made locally in Cincinnati, and now made in Florida.
There is a serious tie selection, all custom made, and no more than two of any style. Same with the sock selection…incredible choices throughout the store.
Find 45/46 on Hyde Park Square at 2719 Erie Avenue. See you there!