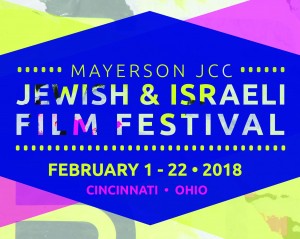 The Mayerson JCC's Jewish and Israeli Film Festival will again bring a diverse, inspiring lineup of award-winning films that showcase Jewish and Israeli culture to theatres aroundGreater Cincinnati. The festival will showcase 12 feature-length films and several short films from February 1 – 22.
The festival will kick off with an Opening Night celebration and screening of Hummus! The Movie at 20th Century Theater at 7pm. This festive event will honor this quirky documentary film with a Mediterranean-themed cocktail reception, including, of course, plenty of hummus.
Opening Night will also include a discussion with Israeli film expert and screenwriter Galit Roichman, who will serve as the Festival's Scholar-in-Residence during its first week. Ms. Roichman will lead audiences on a journey into Israeli cinema, providing a glimpse of the local culture and the changing face of Israeli society in films and television.
This year, the Mayerson JCC's ongoing Israel at 70 celebration will add an exciting new facet to the festival. In keeping with the celebration's theme of "The Faces of Israel," several films will present different perspectives of Israel and what it means to be Israeli.
The Festival's Closing Night, featuring the poignant documentary Big Sonia, will take place at 20th Century Theater on February 22 at 7pm. Big Sonia follows 91-year-old businesswoman and Holocaust survivor Sonia Warshawski as the specter of retirement prompts her to revisit her traumatic past.
Closing Night attendees are encouraged to stay after the screening for a discussion with Caroline Kennedy, a member of the Big Sonia cast and founder and CEO of Empower: Educate & Inspire, a youth-run nonprofit that teaches students leadership skills and educates them about today's global issues.
The Mayerson JCC Jewish & Israeli Film Festival has received critical acclaim, enabling people from all over Cincinnati to experience thought-provoking Jewish and Israeli films from around the world. The festival builds community by attracting community organizations and experts to speak about the issues presented in the diverse slate of films.
For more information on the Mayerson JCC Jewish & Israeli Film Festival, including up-to-date details on the selected films and schedule of events, please visit MayersonJCC.org.