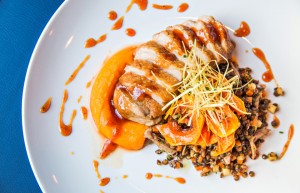 Postmark is the newest restaurant to hit the Clifton scene from Chef/Owner Brad Bernstein and Sommelier/Owner Devon Barret (of Red Feather Kitchen); housed in the former Tink's, La Poste and Harvest Bistro and Wine Bar space, Postmark is a "new American restaurant."  But what does that mean?
It's a "farmhouse refined" concept that emphasizes "slow food"; by showcasing the best in farm goods, old world ingredients and artful products, Postmark delivers great food and drink, honestly prepared and served.  They are proud to work directly with merchants, farmers and importers to preserve this impression tradition; they are open, friendly and considerate, trained and educated in their trade, with an unwavering confidence in their product and beliefs.
What's unique about Postmark is the setting; it's repurposed, reused, and up-cycled. Worn and weathered while still being cozy and comfortable, yet also rustic and rugged. Filled with old world charm and nostalgia, this is where fine dining meets farmhouse style. The postal theme is portrayed by post office antiques, prints and decor, throughout the dining room.  Postmark also features a semi-private dining room that can accommodate groups up to thirty, and guests will appreciate overlooking the curated, 2,000 bottle wine room.
Postmark owner Chef Brad Bernstein is a third-generation restauranteur and this is his second restaurant separate from his family. Devon Barrett, certified Sommelier from the Court of Master Sommeliers, came to Cincinnati six years ago and worked at Red the Steakhouse and Moxie in Beechwood. Before opening Red Feather Kitchen in 2013 in Oakley, Devon Barrett was general manager at Zula in OTR where he and Brad Bernstein met.
Postmark is open six days a week: Tuesday through Thursday from 5-9pm; Friday and Saturday from 5-10pm; and Sunday from 5-9pm. Wine tastings with small bites, charcuterie, & cheese are available Tuesday through Friday from 5-7pm.  Drop by 3410 Telford Street, just off Ludlow Avenue in Clifton, and see what all the buzz is about.