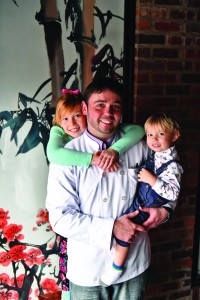 Hyde Park has had the honor of being the home of one of the best Chinese restaurants in Cincinnati for over 40 years: China Gourmet.  Currently owned by long-term employee Matt Loomis, China Gourmet has consistently provided high quality food to generations of Cincinnatians.
February is the Chinese New Year, the Year of the Dog, and China Gourmet is celebrating it for a whole week from February 12-17; they'll have their regular menu, but will also be featuring specials all week for the New Year highlighting authentic Chinese cuisine, such as razor scallops, rabbit, and oxtail soup, to name a few.
In addition to their traditional Cantonese and Szechuan dishes, China Gourmet really enjoys preparing custom and unique dishes – in fact, your server might ask you five questions to figure out the best custom meal for you!  Known for their fresh fish and seafood, all delivered daily, China Gourmet prefers to serve the whole fish, because it just "tastes better."
If you are looking for a great place for a date night out, come to China Gourmet on Mondays: it's Family Night!  While the adults enjoy a delicious meal on their own, the kids will have a blast in their own room with food and entertainment, including a ping pong table, tv, toys, arts and crafts and games.  The room is closed, so the kids stay safely contained…and their parents don't have to share their fortune cookies!
On Lobster Tuesdays, you can get a 1.75-pound hard shell lobster for just a few dollars over what the restaurant paid for it.  It's a great deal, so call ahead and order yours, and then come in and enjoy it freshly prepared just for you.
Is it Wednesday?  Must be Flight Night!  Enjoy a rotating selection of wine and bourbon flights, 4 to a flight, for just $16.
China Gourmet didn't forget about Valentine's Day!  Come in for surf and turf, Chinese style.  Heart-shaped scallops will be served along side Hong Kong style filet mignon, perfect for a romantic evening out with your sweetie.
China Gourmet is open for lunch Wednesday through Friday from 11:00am-2:00pm, dinner Monday through Thursday from 4:00pm-11:00pm, and Friday and Saturday from 4:00pm-midnight.  They are closed on Sundays.  From the exotic to the classic, China Gourmet has the dish you are sure to love.