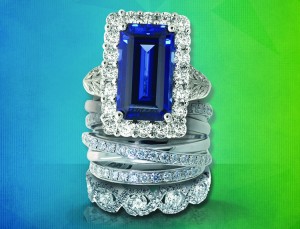 It may be hot outside but the Bridal jewelry is even hotter at Eddie Lane's EDB Diamond Showroom!
Eddie Lane's EDB Diamond Showroom has always provided Cincinnati with the highest quality and best selection of diamonds and gold from their convenient Montgomery Road location, so if this is the summer you plan to propose, there's nowhere better to go for your engagement and wedding jewelry.
You've heard the old adage: spend 3 months' salary on the engagement ring.  But at Eddie Lane's, that's not their gold standard.  Knowing that such a "guideline" doesn't always fit in someone's plan, Eddie Lane's works with your budget; you let their non-commissioned staff know what your spending limit is, and they will strive to find you the best possible diamond within that price tag.  Getting you the engagement and wedding jewelry of your dreams within your budget is their ultimate goal.  Plus, all bridal jewelry comes with a lifetime warranty.
Eddie Lane's has a fabulous selection of bridal sets in-store, with new items coming in daily, but they also can custom design something special if that's what will make your bride happy!  Choose from any of their amazing GIA certified loose diamonds, and together you can create a setting that will make it the talk of the town.
Summer is also a great time to have your jewelry cleaned and the stones inspected, so drop by the showroom and have Eddie Lane's get your special items up to sparkly summer standards.
Don't you want the recently named "Best Fine Jeweler" in Cincinnati to provide the most special jewelry you'll ever purchase?  Stop by and see for yourself what Eddie Lane's is all about.