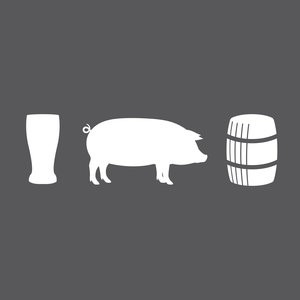 Cincinnati's oldest restaurant, Mecklenburg Gardens, is famous for its Beer Garden.  However, with the crazy bacon and bourbon crazes sweeping the nation, they want to expand their repertoire.
On August 19th, Mecklenburg Gardens will be hosting a new event: Beer, Bacon, Bourbon and Blues.  From 11:00am to 5:00pm, patrons can not only enjoy the wide variety of beer they already offer, but can also give local Bourbon distilleries a try!  With tastings and flights on hand, customers can sample the best in Bourbon and beer; Mecklenburg Gardens will be hosting several Cincinnati-area distilleries while also serving the fabulous German and craft beers they offer in their Beer Garden.
To go along with your drinks, you'll need some snacks to soak it all up.  A variety of appetizers featuring bacon and other tasty treats will be available to order: from bacon-wrapped metts and brats to beer cheese with pretzels, there will be plenty of delicious options.  The menu is still being crafted, so you'll have to drop by and see for yourself what's going to be delighting your taste buds.
And of course, you can't have an event like this without music, and the Blues just seem to fit the bill perfectly.  The Ben Duke Band will be there to entertain you while you relax in the shaded garden, enjoying your drinks and snacks.  It's the perfect accompaniment to Bourbon and Beer!
With the best in German cuisine and the best Beer Garden in town, Mecklenburg Gardens has always been a Cincinnati tradition.  Make it yours while you're visiting Cincinnati, and stop by the Beer, Bacon, Bourbon and Blues festival!