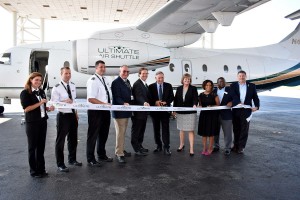 Want to hit up the Atlanta area?  Great news: Ultimate Air Shuttle is now providing its public charter service to Dekalb-Peachtree Airport (PDK), offering round-trip flights to and from Cincinnati, OH via Lunken Airport (LUK) and Cleveland, OH via Burke Lakefront Airport (BKL).  Best of all, you can get there five days a week!  Ultimate Air's 30-seat Dornier 328 Jet will fly Monday, Tuesday, Wednesday, Thursday and Friday.  Departure times are: Monday through Friday from Cincinnati (LUK) at 9:20 a.m. to Dekalb-Peachtree (PDK), landing at 10:20 a.m. Returning from Dekalb-Peachtree (PDK), you'll leave at 3:45 p.m., landing in Cincinnati (LUK) at 4:45 p.m.  The price for a round-trip ticket is $549 and a one-way ticket is $299.  These ticket prices include all applicable taxes and fees. Round-trip tickets can be purchased at www.ultimateairshuttle.com or call 800-437-3931, with 24-hour phone support.
Public charters have fewer restrictions than commercial flights and come with VIP-level service. For example, Ultimate Air Shuttle provides a level of service that exceeds minimum Department of Transportation requirements, including fast, hassle-free check-in up to 15 minutes before departure, no cancellation or change fees up to 24 hours in advance, concierge service for taxis and rental cars and no fees for parking, baggage and free in-flight refreshments.
"Many of our customers have requested service to and from Atlanta.  Ultimate Air Shuttle offers the only jet service from Cincinnati's Lunken Airport and Cleveland's Burke Lakefront Airport to Dekalb Peachtree Airport," said Rick Pawlak, Managing Director of Ultimate Air Shuttle. "We are committed to growing and supporting the Cincinnati community and all the communities in and around our city destinations.  Service to Atlanta via PDK gives us a perfect opportunity to continue our growth plan in Cincinnati and Cleveland."
Need a ride from Lunken Airport to Downtown Cincinnati?  Ultimate Air will offer complimentary ground transportation in a Mercedes Sprinter provided by Mercedes-Benz of Ft. Mitchell.