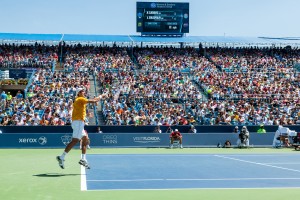 Get ready for tennis at its best: the world's top stars AND off-court action that's an event all its' own. This is the tournament that gets you and your friends into the mix… close to everything about the Open that means the most to you.
Held at the Lindner Family Tennis Center just 20 miles north of Cincinnati, this is one of the most acclaimed (and most approachable) events in tennis, with the world's greatest flocking here since 1899. Featuring top local music, cuisine from the area's best chefs and deluxe libations and shopping, we've become the region's most anticipated celebration.
With more than 200,000 fans coming from all 50 states and 30 countries cheering on modern day legends like Roger, Rafa, and Serena as they join yesteryear's immortals McEnroe, Evert, and Connors in becoming enshrined in our 118-year history. See the next generation of legends up close and personal.
Getting next to these greats is easy, on- and just off-court. Hear the whip of the racquets in play and practice, the zip of the pens in intimate autograph sessions, and the excited murmurs as the pros pass by. Eat fine fare, sip on your choice of refreshment (craft beer, wine, and champagne to name a few), and catch world-class tennis at your Open for anything.