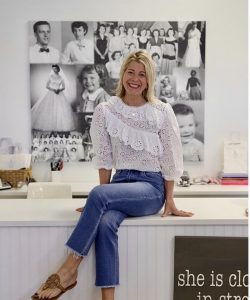 Meet Nancy Rembold… The woman behind the shopping magic and experience at Lou Lou's!
Nancy is a Dayton native… She met her husband at Bowling Green State University… And then moved to Cincinnati. Lou Lou's was always her dream! Nancy worked in a small boutique in College and fell in love with the concept of "boutique" shopping!!  Shopping small is simply good for your heart!  You are putting dollars directly back into your community!
The concept behind Lou Lou's was to create a lifestyle brand that doesn't complicate fashion, but instead simplifies it via their thoughtfully curated collection of clothing and accessories.  Nancy wants to bring the joy of fashion to everyone!
The ladies that work at LouLou's create the "magic" .. you feel like you are shopping with your best friend! Let them help you with all your holiday events, gifts…etc! Lou Lou's carries many different brands and products for all ages! You can shop in the store or online..whichever works best! 
Free gift wrap through the holidays, and the women of Lou Lou's are also happy to assist in gift selections. 
Lou Lou's Boutique is open 7 days a week….Open 24/7 online! Check out the online store at ShopLouLous.com 
Or in-person at 6145 Bridgetown Road, just minutes from Downtown. 
Happy Holidays to all, and happy shopping!