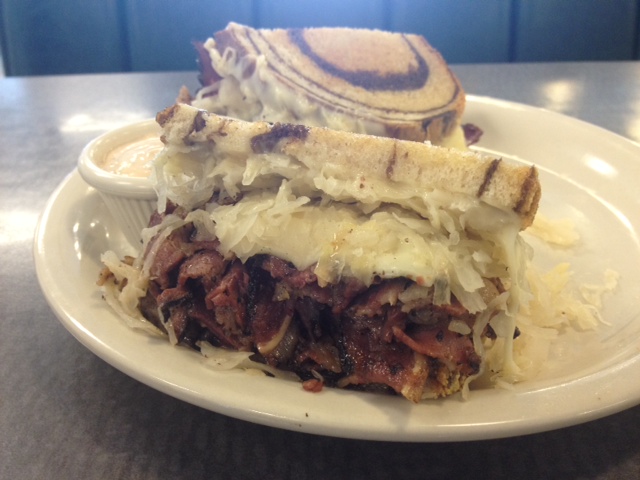 Ever feel the craving for an honest-to-goodness, New York-style deli sandwich but figure, hey, I'm in Cincinnati so it's not going to happen? Well, surprise – you're wrong! You can get that true NY deli taste right here in town, at Rascals' NY Deli.
Rascals' has it all: delicious rye bread, premium deli meats, lox and whitefish, matzo ball soup, and of course, Dr. Brown's Cream Soda. They were inspired by the great delis around the country, from the Carnegie Deli in New York to Corky and Lenny's in Cleveland. The vast menu features all the classic deli sandwiches you know and love, as well as burgers, blintzes, soups, salads, fish, bagels…if you want it, they've got it!
Looking for the best Reuben in town? Rascals' has it! They were voted "Best Reuben" by Cincinnati Magazine. They also were voted "Best Brunch". Rascals' serves up breakfast, lunch and dinner and are proud to offer up their killer breakfast sandwich every day, featuring 2 fried eggs, a potato latke, American cheese, Russian dressing and strawberry jelly on a bun. What a way to start the day! They also have some seriously delicious brisket, traditional chopped liver and for those wanting to go outside the deli box, lamb, brisket or chicken gyros. Don't forget to order a piece of homemade kugel (noodle pudding) or a knish!
Rascals' has a terrific catering menu, a Shabbos carry-out menu (kosher-style), shiva menus and you can also purchase their deli meats by the pound. What a great way to get your deli fix satisfied any time of the day or night. Stop by Rascals' NY Deli, one mile north of Kenwood in Downtown Blue Ash. Once you've had that Reuben, you'll never order one anywhere else again.