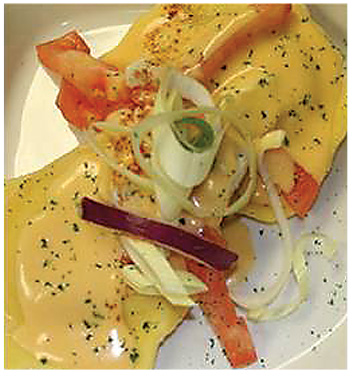 In the restaurant biz, being around for 50+ years is staying power. Visitors looking for exquisite, authentic Italian dishes, both northern and southern regional specialties, will find them and more at Barresi's.
Veal (vitello) is the house specialty at Barresi's. "It is so hard to find good veal dishes in this town (or perhaps outside the Big Apple and Philly and a few other enclaves of Italian ethnicity), pounded perfectly thin, melt-in-your-mouth, treated the right way, cooked the right way," says owner and chef Sarah Wagner. "I'd say those (veal) dishes are what locals know us for and come here for time and time again."
There are five veal entrée specialties in all: classic marsala, the mushroom sauce with pine nuts and marsala wine; a hospital nutrition endorsed heart-healthy piccata al limone, sauced in butter, white wine, lemon and capers; francese, the veal dipped in seasoned fresh egg, and sautéed over gentle heat in butter and lemon; sentino, finished with asparagus, mushrooms and crabmeat in a cream and cheese sauce; and parmigiana, in marinara sauce capped with parmesan and provolone cheeses.
Of course, you could choose pasta, such as the lobster ravioli in sauce Cardinale, and topped with lump crabmeat: or gnocchi in pesto ala Barresi, which is a creamy pesto with a touch of Alfredo sauce added to the basil-oil base; or chicken alla panna, done up over fettuccine and in Alfredo sauce, the add-ins including sundried tomatoes, mushrooms and scallions.
Or try what Wagner characterizes as Barresi's biggest crowd-pleaser, the chicken & crab gorgonzola. "People may have the impression of gorgonzola cheese being strong and pungent, but our sauce is mellow and mild and absolutely bursting with flavor, and we have guests, regulars, who come here and never look at the menu and that's their dish, every time," Wagner said.
Dinner salads are a showcase feature at Barresi's as well. The fried calamari Caesar tops the list, and is a mainstay. A special heart-healthy selection is the Mediterranean grilled tuna, featuring a bed of spring greens, mixed with kalamata olives, mushrooms, sundried tomatoes and buffalo mozzarella, capped with sear-grilled medium rare wild-caught tuna, and accompanied by prosecco vinaigrette.
Families with small children may want to know that Barresi's features a play area filled with "quiet" toys, away from diners, where kids are welcome while mom and dad relax over a meal.
Check out the Tapas Wine Bar at Barresi's. You can cozy around the fireplace and enjoy the intimate atmosphere. You'll find a slew of whites and reds by the glass or bottle, along with small plates for sharing and nibbling. Our Key magazine favorite is the carciofini al boungustaio, sautéed artichoke hearts in a garlic and EVOO sauce. The appetizer version of the lobster ravioli is a yummy choice as well, as are the zuppa di mussels and calamari fritti.
See you at Barresi's for genuine Italian cuisine, made from Barresi family recipes.