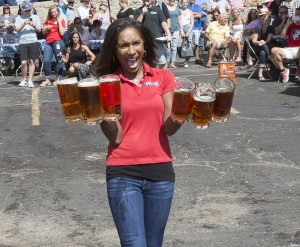 Oktoberfest Zinzinnati is one of Cincinnati's longest and most iconic traditions. Oktoberfest is a Bavarian tradition that goes back to 1810 and is held every year in late September and early October. Celebrating its 43rd year, Oktoberfest Zinzinnati will run from 11 A.M. Friday, September 20 to 9 P.M. Sunday, September 22.
With over 650,000 expected attendees, Oktoberfest Zinzinnati is the largest Oktoberfest celebration in the United States, due in part to Cincinnati's rich German heritage and culture, as well as dedication from its sponsors, Sam Adams and Amazon. 
Rich Walburg with Oktoberfest Zinzinnati is proud of what the celebration has become and says its due to "the producers at the Cincinnati USA Regional Chamber, the sponsors, vendors and volunteers who respect the festival's tradition, while keeping the event fresh, relevant and innovative."
Located downtown on Second and Third streets between Walnut and Elm, the weekend is packed with fun, exciting events, great beer, and unique food. Kicking off the weekend is the annual Running of the Wieners, which pits 100 dachshunds dressed in hot dog costumes against one another. Also, over the course of the weekend, the Sam Adams Stein Hoist and the World's largest Chicken Dance. 
Special for this year, Oktoberfest Zinzinnati is partnering with the Cincinnati Reds to offer a package which includes a "commemorative Oktoberfest Zinzinnati mug, a ticket for a Reds game during Oktoberfest weekend, one free drink at the Reds game and another at Oktoberfest, all for as little as $20."
With new extended hours this year, the recent move to downtown, and the action-packed lineup of events throughout the weekend, be sure to come to Oktoberfest Zinzinnati, grab some sausages, schnitzel, and other great food, and check out the website, www.OktoberfestZinzinnati.com for more information.