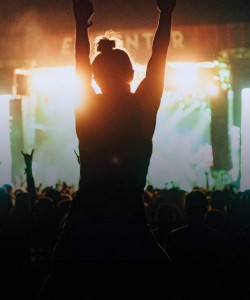 An amazing lineup of music festivals is about to happen in Louisville over three weekends in September….and you're totally going to want to attend! Three different music genres…ALL with Bourbon and more!
HOMETOWN RISING
Country Music & Bourbon Festival
Saturday, September 14 & Sunday,
September 15
At Highland Festival Grounds At KY Expo Center 
In Louisville, KY
Country music icon Trace Adkins, independent rising country music artist Dillon Carmichael, and country rock duo The Sisterhood Band have been added to the incredible music lineup for Hometown Rising, the first-ever Country Music & Bourbon Festival, which debuts Saturday, September 14 and Sunday, September 15 at Highland Festival Grounds at KY Expo Center in Louisville, KY.
Hometown Rising combines two of Louisville's cultural cornerstones—great music and incredible  bourbon (Exclusive Bourbon Tastings & Workshops), and is the newest addition to the Louisville fall festival series from premier independent festival producer Danny Wimmer Presents.
Hometown Rising's music lineup will be led by country heavyweights including Tim McGraw, Little Big Town, Luke Bryan and Keith Urban with additional appearances from Dwight Yoakam, Trace Adkins, Brett Young, Jake Owen, Bret Michaels, Frankie Ballard, and many more. In total, more than 30 artists will play on three stages, including two side-by-side main stages, over the course of the weekend.
Bourbon & Beyond
Friday, September 20 – Sunday, September 22
At Highland Festival Grounds At KY Expo Center 
In Louisville, KY
The World's Largest Bourbon Festival, Bourbon & Beyond, will make its anticipated return to Louisville, KY expanded to three days full of incredible music, unique culinary events, and unmatched experiences from the region's best distilleries at the new Highland Festival Grounds At KY Expo Center. In addition to an unforgettable lineup of bourbon and chefs, music performers include a unique mix of rock, roots, bluegrass and folk acts headlined by Foo Fighters, Robert Plant And The Sensational Space Shifters (returning after originally being scheduled to appear in 2018), the Zac Brown Band, John Fogerty, Daryl Hall & John Oates, and ZZ Top (celebrating their 50th anniversary in 2019). Additional acts include Nathaniel Rateliff & The Night Sweats, Trey Anastasio Band, Leon Bridges, The Flaming Lips, Alison Krauss, Edward Sharpe And The Magnetic Zeroes, +LIVE+, Grace Potter, Little Steven & The Disciples Of Soul, and Joan Jett & The Blackhearts, among many others. In total, more than 45 artists will play on three stages, including the side-by-side Oak and Barrel main stages and a bluegrass stage that will be curated by the genre's leading authority, The Bluegrass Situation.
Held during Bourbon Heritage Month, Bourbon & Beyond also celebrates the craftsmanship behind award-winning spirits, master distillers and world-class chefs. Bourbon author, Amazon Prime host (Bourbon Up) and expert Fred Minnick has curated one-of-a-kind tastings and seminars celebrating Louisville's world-renowned distilleries, while culinary curators Edward Lee (The Mind of A Chef) and Anthony Lamas (Seviche) will team up to arrange special food experiences that will be announced soon.
"If you could capture America in a bottle, it would be a bottle of bourbon. It's a uniquely American creation, like jazz and baseball, and its beating heart is in Louisville," says Bourbon & Beyond producer Danny Wimmer. "This connection to the past has transformed Louisville into a city of the future. One of the most vibrant and diverse food scenes in the country has grown around bourbon's resurgence, and we tried to mirror that spirit with the great music lineup that we put together. I can't wait for people to visit this city in September and experience something that goes far beyond their preconception of what Louisville is."
LOUDER THAN LIFE
September 27, 28 & 29
At Festival's New Home
Highland Festival Grounds At KY Expo Center
Touted as The World's Largest Rock 'N' Roll Whiskey Festival……quintessential rock band Guns N' Roses, notorious for their larger-than-life, bombastic shows that engulf every fan, are the first act for the return of Louder Than Life. This year the festival will be headed to its new home at the Highland Festival Grounds At KY Expo Center on Friday, September 27, Saturday, September 28 and Sunday, September 29.
This will mark the debut of the Guns N' Roses lineup at the Louder Than Life festival and is the first appearance for the rock giants since performing in Hawaii in December 2018.
"There are only a handful of bands through the years whose music not only resonates with fans, but changes the entire face of rock 'n' roll. Guns N' Roses is one of those true icons," says festival producer Danny Wimmer.
Friday, September 27
Slipknot, Staind, A Day to Remember, Chevelle, I Prevail, Architects, Beartooth, Motionless In White, Philip H. Anselmo & The Illegals, GWAR, The Crystal Method, Graveyard, Frank Carter & The Rattlesnakes, New Years Day, All Them Witches, Crown Lands, Joyous Wolf, Dead Posey, Santa Cruz and more
Saturday, September 28:
Guns N' Roses, Godsmack, Ice Cube, Halestorm, Dropkick Murphys, Stone Temple Pilots, Suicidal Tendencies, Melvins, Andrew W.K., Badflower, Knocked Loose, Anti-Flag, Redd Kross, Parlor Mob, Like A Storm, Jelly Roll, Dirty Honey, DED, JunkBunny and more
Sunday, September 29:
Disturbed, Rob Zombie, Marilyn Manson, Breaking Benjamin, Die Antwoord, Three Days Grace, Sum 41, [artist TBA], Deadland Ritual, White Reaper, Demon Hunter, Ho99o9, Angel Du$t, Sick Puppies, Amigo The Devil, Fire From The Gods, Broken Hands, Anemic Royalty and more
Danny Wimmer Presents is proud to announce a collaboration with Metallica's Blackened Whiskey and Enter Night Pilsner. Blackened, a super-premium American whiskey blend crafted by the late Master Distiller Dave Pickerell and finished in the earth shattering music of Metallica, and Enter Night Pilsner, a collaboration with the rockstars of craft brewing Stone Brewing Company, will come together under one roof to offer guests a one-of-kind musical festival experience. The massive BoilerMaker pop-up will feature a Blackened & Enter Night Boilermaker, as well as craft cocktails and ice-cold Enter Night Pilsner.
The festival's centerpiece, Kroger's Big Bourbon Bar presented by Louisville Courier Journal, will feature more than two dozen hand-selected bourbons from top distilleries, and a unique opportunity to enjoy bourbons and exclusive one-time specialty cocktails.
Fred Minnick's Mini Bar—hosted by the Louder Than Life bourbon curator, bourbon author/expert, and Amazon Prime host (Bourbon Up)—will showcase craft selections from Louisville's world-renowned distilleries. Acclaimed Louisville whiskey bar The Silver Dollar will operate The Hunter's Club, where attendees can find vintage bourbons dating as far back as the 1930s, as well as contemporary collectibles.
The list of participating bourbon brands at Louder Than Life includes 1792, Angel's Envy, Barrell Bourbon, Coopers' Craft, Elijah Craig, Evan Williams, Four Roses, Jeptha Creed Four Grain Bourbon, Jim Beam, Kentucky Peerless, Larceny, Maker's Mark, Michter's, Old Forester, Rebel Yell, StoneHammer, Wild Turkey, Willett, and Woodford Reserve.
Whiskey sponsors also include Jack Daniel's, Southern Comfort and Uncle Nearest.
In addition, attendees can enjoy a variety of local and regional food and beverage offerings provided by DWP's affiliate concessionaire, Southern Hospitality Concessions LLC. Festival attendees will be able to experience a taste of Louisville with selections from the following restaurants: Boss Hog BBQ, Couvillion, Doc Crow's Southern Smokehouse & Raw Bar, Ehrler's Ice Cream, Eli's BBQ, Heine Brothers Coffee, Hull And Highwater, Joella's Hot Chicken, Martin's BBQ, Merle's Whiskey Kitchen, River Road BBQ, Sarino, Seviche, and more.
An amazing lineup all three weekends…get your tickets today!