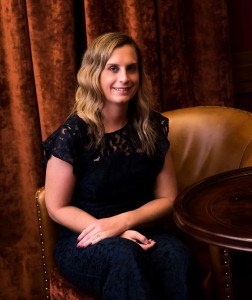 As a young woman living in Cincinnati, Ohio, Caroline Jones is not just surviving with type 1 diabetes (T1D), but she is living a full and happy life. Having recently gotten married and starting a new position at UC Health, Caroline lives life to the fullest. She faced a huge challenge, however, when she was first diagnosed with T1D three years ago at the age of twenty-five. Type 1 diabetes is an autoimmune disease, meaning it can surface at any age and is not brought on or affected by diet or lifestyle choices. While T1D is commonly thought of as a child's disease, over half of new diagnoses occur in the adult population.
Caroline is committed to helping her community as a volunteer at a local nonprofit, the Juvenile Diabetes Research Foundation. JDRF is dedicated to the mission to cure, treat, and prevent T1D. To raise money for diabetes research, JDRF each year hosts the hottest party in Cincinnati, the Bourbon and Bow Tie Bash. Caroline has been involved in this event since the beginning; "People love this event because it has something for everyone. From the food and bourbon tastings, to the silent auction, even to the entertainment, this is just a really fun evening." Caroline is also passionate about helping plan this event because it raises money to help her live a better life. Because of advancements made possible due to JDRF funding, Caroline benefits from exciting new technology, including the artificial pancreas device.
Caroline will share her story at this year's Bourbon and Bow Tie Bash on October 19 at the Duke Energy Convention Center. For more information, please visit www.jdrfbourbon.org.