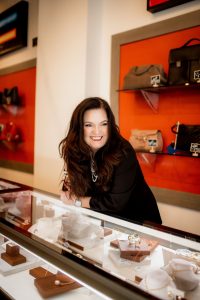 Jacob James is a fabulous boutique for high-end jewelry, handbags, and accessories on Hyde Park Square. They specialize in new designer jewelry, and also "pre-loved" luxury items including jewelry, designer handbags, scarves and sunglasses.
Jacob James offers the newest and best in today's style trends while not forgetting about yesterday's luxury. Choose to breathe new life into the shop's pre-owned luxury items, or a piece that begins its journey with you….Michelle at Jacob James will help you make it your own.
The store is owned by Michelle Randle, a Cincinnati native. She has been in the fashion and jewelry industry for the past 20+ years. It was her dream to open a store like this…the store has a boutique feel, and offers something for everyone. Michelle purchased the store from its original owners in September 2020…She looks forward to helping you find the perfect piece. Every piece has a history, but to Randle, it's about what's next – adding a new chapter to an existing legacy with a style story that's uniquely yours.
The store carries all the biggest designer names in fashion and accessories: Chanel, Louis Vuitton, Gucci, Hermès, David Yurman, Tiffany, and many more! It's an opportunity to buy high fashion items at a fraction of the retail cost.
The entire collection at Jacob James comes from wonderful customers just like you! Join thousands of savvy sellers in giving your luxury a new home. The store focuses on designer pieces that were created to last a lifetime. In order of what's trending: 
Watches, Bags, Jewelry, Bridal, Accessories.
Let Michelle assist you with ALL your holiday gifts!! She offers Gift Cards…Personal Shopping….Gift Wrap…even delivery!
Stop in Jacob James and be wowed by the stunning collection of jewelry, purses and accessories! Located on Hyde Park Square at 3446 Edwards Rd. Check out her website at: ShopJacobJames.com.