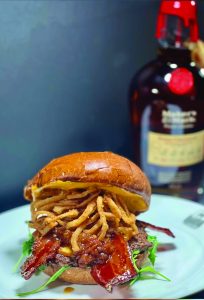 July brings many happy moments with fireworks, pool parties, barbeques, and Burger Week! Hungry burger lovers will treasure hunt their way through the Greater Cincinnati area to discover new burger destinations and favorites.  Street City Pub is prepared for the rush with the introduction of the new  "Unexpected" Burger…Certified Angus Beef® Smash Patty, Maker's Mark Private Selection Prime CincinnatiAnniversary Infused Tomato Jam, Candied Bacon, Rocket Arugula, Smoked Gouda, Onion Straws and Sriracha Aioli on a Brioche Bun…for only $7 during Burger Week! 
Street City will also be offering a Makers Mark Prime private selection cocktail….the Cincy Spice for $10. 
And don't forget about the Pre-Theater menu offered at Street City before your favorite show!
Street City Pub has big plans brewing inside its cozy walls. Over the past year, the ambiance has changed. There is a sliding glass walk-out to an urban patio on 6th Street. Venture past the entrance and through the "pub" area to a secret room with murals featuring the Cincinnati connector, the Aronoff Center's main stage, and bourbon barrels. Extending from the Aronoff mural is an actual stage to feature Cincinnati's local talent for musical evenings. Lounge seating is available, and a new bourbon display is in the making. When thinking of Street City Pub, remember to expect the Unexpected.
Located on the ground floor in the @580 Walnut building…across from The Aronoff Center for the Arts.