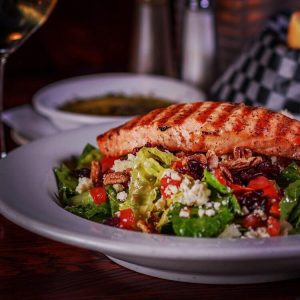 Grandview Tavern in Northern Kentucky is the premier food and beverage entertainment spot! Established in 2007 and still going strong, with over a decade of research and development forged into a casual upscale concept, second to none.
Chef Jack Rolf's creations ensure something for everyone…and just launched his new menu!
He takes great pride in the fresh product he produces. Just good food from fresh ingredients. From the signature salmon salad, chicken piccata, fresh wings, and the best burger around….also pizza! Don't overlook the pizza!
Grandview Tavern has an extensive wine menu that is half-price every Monday. Specialty cocktails and a seriously great bourbon selection are always a hit, along with a great variety of beers.
Enjoy outdoor dining, live music on Thursday, Friday, and Saturday nights.
Grandview Tavern has a cozy, vibrant bar inside and a quiet dining room. The number one outdoor patio in Northern Kentucky also that is blooming with flowers and amazing ambience!
Private dining is also available for Special events, as well as catering.
Grandview Tavern is located at
2220 Grandview Dr. in Fort Mitchell, Kentucky.
Only a few minutes South of downtown Cincinnati. Call 859-341-8439 for reservations.