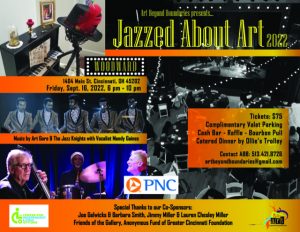 The Center for Independent Living Options, Inc. (CILO) invites you to join us on the evening of Friday, September 16, 2022, for the sixth annual Jazzed About Art at The Woodward Theatre in Over-The-Rhine. The evening will begin with a 6:00 PM cocktail hour followed by a catered dinner buffet by Ollie's Trolley. Throughout the evening you will enjoy live jazz from Art Gore and The Jazz Knights with Vocalist Mandy Gaines, and our fabulous raffle prizes will be on display with raffle tickets available for purchase.
 Jazzed About Art is an annual event that raises needed funds to support Art Beyond Boundaries, CILO's inclusive art program and fine art gallery in Over-The-Rhine. Since 2005, this program has assisted hundreds of talented artists with disabilities to grow artistically by providing a professional mainstream exhibition venue where they can establish themselves in the art community. Each year the gallery hosts several themed exhibitions demonstrating a range of talents and skills spanning every type of medium.
If you have any questions, or perhaps would like to discuss other ways you might support the event, please contact us.
Jymi Bolden – Gallery Director
Anthony Jenkins – Gallery Assistant
Contact: 513.421.8726
artbeyondboundaries@gmail.com
Rob Festenstein – Executive Director at CILO
Contact: 513.241.2600
rfestenstein@cilo.net
Go check them out!