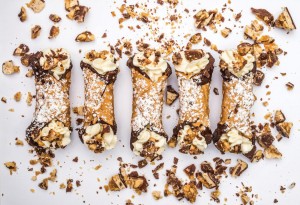 Del Gardo's Cannoli has been in the making for over 30 years for owner Steve Del Gardo. It started while Steve was a Chef's Apprentice at 18 years old in Columbus, Ohio.
Steve had a dream….and in 2018 it became a reality. He wanted to open an Italian café but be different than anyone else. He explored a coffee bar concept to a full eat in café but his main focus was his special recipes for cannoli. Steve has an art/design background and wanted to use those skills in creating wonderful looking artisan cannoli as well as being very tasty to one's palette. After 12 months exploring and research on how to get his cannoli to the masses, Steve is living his dream.
Del Gardo's Cannoli Bar offers Italian Fine Wines and Premium Craft Beers.