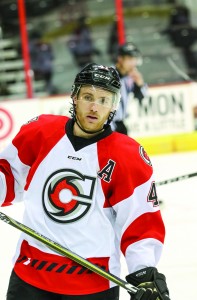 When you think of sports in Cincinnati, you think the Reds, the Bengals, even the UC Bearcats.  But did you know we have a hockey team too?  Our Cincinnati Cyclones are a top-notch team and a game is the perfect evening out for the whole family!
Since 1990, the Cincinnati Cyclones have been playing hockey all over the country and in Canada; they are the AA team of the National Predators. Eighteen of their players have gone on to play for the NHL, which makes our Cyclones a hotbed of talent that's exciting to watch.
Coming to a game at the US Bank Arena is more than just a hockey experience: it's the complete package of great fun, great food and great times.  There's music, promotions and fun half-time activities (think hamster balls and sumo suits!), so even if you aren't a hockey fan, there's plenty to enjoy.  Games always have a fun theme, such as Superheroes, Star Wars and Video Games, and promotions include $1 beer night, $1 hot dog night, kids eat free and more.  Special fundraising nights are featured as well: for example, "The Cure Starts Now Night" raises money for pediatric cancer and there also are breast cancer awareness nights that mix philanthropy and fun. The atmosphere at a Cyclones game is always charged up with excitement and exuberance.
In February, the Cyclones will hold the Frozen 5K/10K, a unique winter race that takes you on a course along the Banks of the Ohio River and through Cincinnati's Transit Center underneath Second Street; funds raise go to the Cincinnati Cyclones Foundation, an organization that helps defray the costs so that children can play youth hockey.
A Cyclones game is also a great place to celebrate birthdays!  Check out their package options at www.cycloneshockey.com.
When you want more than just a sports experience on a night out – when you're looking for sports, fun, music, food and an atmosphere of excitement – come to a Cincinnati Cyclones game at the US Bank Arena.