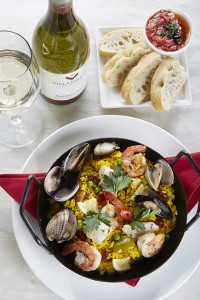 Downtown Cincinnati is great for shopping, entertainment, culture and of course, food!  And Palomino Restaurant and Bar is one of downtown Cincinnati's most popular destinations.  They serve fabulous rustic Italian food in a stylish and eclectic setting, all while taking your taste buds to new heights of deliciousness.  With a wide variety of specials, as well as unique dishes and drinks, there is something for everyone on their menu.
One of the best drinks to start your meal with is the Chef-inspired Bloody Mary.  Made with Stoli Pepper Vodka, rimmed with herbed salt and adorned with house-made mozzarella and Kalamata olives, this drink is a sure-fire reason to leave work early or kick off a Sunday brunch.  Palomino is also known for their signature Paella dish; featuring clams, mussels, fish, chicken, chorizo and saffron rice, this Italian specialty is sure to satisfy.  You can even add prawns, scallops or Dungeness crab for a slight extra charge.
Palomino also has a special for almost every day of the week!  Every Wednesday Palomino has "Wine Down Wednesday," featuring 1/2 price bottles of wine, all day long.  You can savor half-price martinis on 'Tini Tuesday, and Mondays offer $5 wine flights.  For those who enjoy dining a little on the earlier side, Palomino has a "First Seating" menu for two; this delicious menu is served daily from 4 p.m. to 6 p.m. and includes: one choice of antipasto (such as bruschetta, hummus and tzatziki or french onion dip); two choices from the Primo offerings (soup or one of three salads); two selections from the Secondo Y Contorno items (main course dishes); and of course, a dessert.  This menu is available for just $25 per person.  On Sundays, come in for the "3 for $25" dinner menu; a great way to enjoy a delicious meal without having to do all the cooking!
For Happy Hour, a leisurely meal, or drinks and dessert after the theater, Palomino is the place to be.