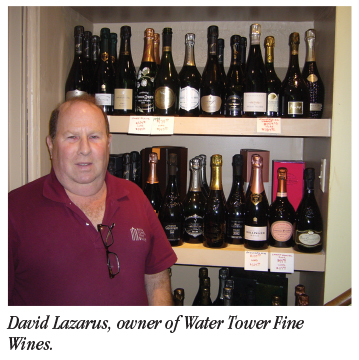 If you LOVE wine and great atmosphere, how about those two together and more than 2,000 labels of wine on the shelves?
Visit Water Tower Fine Wines at 6136 Campus Lane in Mt. Washington, and you will find such an oasis of wines, champagnes, sparkling wines and more. Shopkeepers David and Jan Lazarus pride themselves on having the largest selection of wines in the tri-state area. They also offer the largest selection of champagne (180 varieties) and sparkling wines (130 varieties) in the United States. If you love wines, you'll have a blast looking and buying from this unique and vast selection.
"I have extremely eclectic tastes," says David Lazarus. "That's why we have a couple thousand wines in the store." The wines are from all over the world—California and other states, also Israel, Greece, France, Spain, Portugal, Italy, Germany, Australia, South America, and more.
One attraction of this shop is the weekly Friday Night Tasting Event. Each Friday from 5:30 to 8:30 p.m. the shop has a lavish wine tasting. Heavy appetizers are served (Key staff was invited recently and all was yummy, especially the wines!). Tastings range from $12 to $40 per person, depending on the price points of the wines being tasted that particular Friday.
One reason Water Tower Fine Wines is better for visitors to the area is the Lazarus approach to shop hours of operation. The store is open for a limited number of hours each week, but call the shop (513-231-9463) and the proprietors will open the store by appointment. So if you can only make it after hours on a Tuesday, call, and work it out with David or Jan, and they'll be there. Regular hours are: 12 – 6 p.m. Tuesday, Wednesday and Thursday; 12 – 10 p.m. Friday: and 12 – 5:30 p.m. Saturday.
Asked about the average customer frequenting the shop, the answer is there is no average buyer of wines. Water Tower Fine Wines has a wide range of price points to satisfy all kinds of shoppers, from those who want good quality at a lower price to those who collect the rare or special vintages.
"Many people don't realize that we have some of the collectible wines that tend to be bought up quickly and become hard to get." Lazarus said. He has 12 highly rated wine collectibles in his shop just now. He mentioned three: 100 Acres and Amuse Bouche, along with Salon champagne. "I don't sell on ratings and people may not necessarily know that we have the wines. But we do."
There are also wonderful selections of port, dessert wines and other specialty wines. For instance, Kopki vintage port selection includes many a 1900s bottle: including a '91, '78, '75, '66, '60, '55 and '51. That's just one label.
"Our goal here is to match the wine to the person buying it. We're not out to sell a specific bottle to our customer. This is a service business, and our job is to find out what our customer is looking for in a wine and then match that to a wine that will be what the customer wants."
Lazarus can help the novice find wines that will satisfy as well. For those who buy in case lots, there is a 10% discount for such purchases. Water Tower Fine Wines is a hidden gem…..worth the find…..see you there!