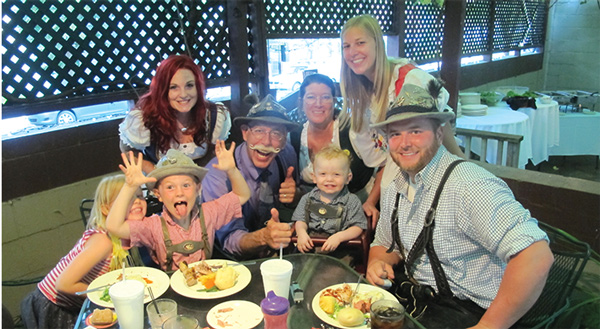 Most everybody knows who Abraham Lincoln is, right? And the history: U.S. president, American Civil War, assassination; all well known. What you may not know is you can eat in a Cincinnati restaurant that opened in 1865, the same year all the above history was happening.
Mecklenburg Gardens is the place, and it's been at the same location since it opened its doors in 1865. A plot map on the wall at Mecklenburg's shows what the neighborhood looked like back then.
Today, the garden part of this historic restaurant is magnificent. The garden is vine covered by ancient growth to create an enchanting leafy-green canopy for real, honest-to-goodness bier garten dining. Even when the July sun is blistering above or the stifling summer heat still radiates late into the evening, you'll find the garden to be a cool spot to relax and socialize. Whether you take a table outside or in, also you will find many great beers—some from the Fatherland—on tap and waiting for you.
You will find a German core to the menu, but lots of other options for your dining pleasure as well. The menu features a small plates section, where items such as bier braised short ribs are found. There are eight sandwich choices, many with a German heritage. Rounding out the bill of fare are salads, soups, sausages, schnitzels and homemade desserts.
Proprietors Tom and Annamarie Harten welcome guests in an Old World manner, proud and pleased to have visitors to Greater Cincinnati among their patrons. Oktoberfest, the quintessential Teutonic tradition, is in season pretty much all the time at their German eatery. The Hartens and staff just celebrated their 18th grand reopening anniversary while they look forward to the 150th anniversary of the original opening in 2015.
And ahhh, that hearty German cuisine! Wiener schnitzel perhaps leads the popularity parade at Mecklenburg Gardens, and is one of several Key magazine favorites. The centerpiece is a "Viennese cutlet," of veal, which is scalloped in an egg wash and secretly seasoned bread crumbs, then gently sautéed to a crispy finish.
Another Key favorite is sauerbraten, a very German, very different, and very tasty dish. The name means "sour roast" in German. Its preparation begins days before your order is placed—three to four days! The beef roast is submerged in a sour-sweet marinate, more sour than sweet, and given its character by gingersnaps. After marinating, the meat is browned, then simmered for several hours in the reserved marinate. The result is an extremely tender roast and a delicious, semi-thick sauce to go with the beef slices.
But wait a minute! We have not had a beer as yet, have we? You must! if you are a beer lover.