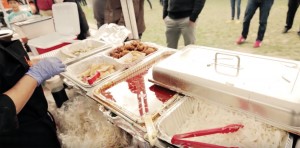 Asian Food Fest, presented by Kroger and produced by the Cincinnati USA Regional Chamber in partnership with the Asian American Cultural Association of Cincinnati is set to happen at a new and expanded site, Saturday, May 11, noon-10 p.m. and Sunday, May 12, noon-8 p.m., on Freedom Way, between Elm and Walnut Streets, at the Banks. Fans of Asian Food Fest will enjoy a mouthwatering tour of Asian foods, in the form of small plates, priced from $2–$6. The event is free and open to the public.
Additionally, "Secret Menu" items will again be available at Asian Food Fest. The term "secret menu" comes from a frequent practice at many Asian restaurants in America. These establishments often have a secret menu available only upon request. The menu features more traditional and authentic Asian dishes.
"As Cincinnati's Asian food scene continues to expand, Asian Food Fest is evolving and staying ahead of pace," said Bao Nguyen of the Asian American Cultural Association of Cincinnati. "This is our ninth production of Asian Food Fest, and we're proud to have created a new and continuously growing Cincinnati tradition."
Other vendors and the SkyStar observation wheel will also operate throughout Asian Food Fest weekend. SkyStar provides unique views of downtown Cincinnati, Covington, the Ohio River and the Roebling Suspension Bridge. It features more than one million LED lights. Each of the 36 gondolas is enclosed, climate controlled and can hold up to six passengers. Skystar offers a private experience and riders are not paired with strangers. The SkyStar experience consists of four revolutions and lasts approximately 12 minutes.
Asian Food Fest celebrates the culture, cuisine, entertainment and drinks of Asian communities including Cambodia, China, Hawaii, India, Japan, Korea, Malaysia, Nepal, Philippines, Taiwan, Thailand and Vietnam. Learn more at www.asianfoodfest.org.