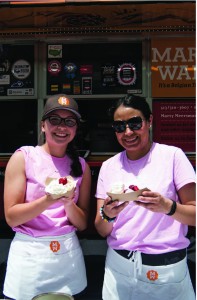 Taste of Cincinnati®, presented by Kroger and produced by the Cincinnati USA Regional Chamber, will feature 34 restaurants and 19 food trucks at the May 25-27 event. The event, which opens at 11 a.m. each day, will showcase close to 300 Cincinnati-made menu items along with a wide variety of beers and diverse entertainment. Taste of Cincinnati will be held on Fifth Street from Main to the ramps of I-71 and Columbia Parkway.
The nation's longest running free culinary arts festival, is also adding the Eat & Run 5K to its menu, Sunday, May 26, 10 a.m. The start and finish line for the inaugural run and walk will be at Sentinel and Culvert Streets in downtown Cincinnati. Registration is now open at www.TasteofCincinnati.com. 
"As the Taste of Cincinnati festival continues to evolve and innovate through food, drinks and entertainment, we're proud to add what we know will become a new Cincinnati tradition, the Eat & Run 5K. We may even cook up a few surprises along the route," said Cynthia Oxley, director of Taste of Cincinnati.
Eat & Run 5K participants will receive a commemorative medal, t-shirt, and a complimentary beverage at Taste of Cincinnati. Prizes will be awarded to the first, second and third place finishers in the men's and women's categories.
Additionally, Taste of Findlay Market will return to Taste of Cincinnati. The specialty section will feature nearly two dozen rotating food vendors from Cincinnati's Findlay Market and "foodpreneurs" from their food business incubator, Findlay Kitchen, will serve delicious fresh-prepared "bites."
Born in 1979, Taste of Cincinnati enjoyed a record-tying crowd of 550,000 in 2018.