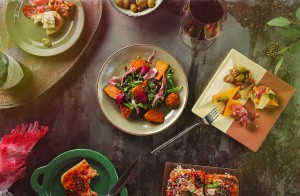 Husband and wife team, hospitality veterans, and lifelong Northern Kentuckians, Matt Haws (Co-Founder of Grandview Tavern & Grille) and Kathleen Haws are proud to announce the opening of Ripple Wine Bar. Passionate about creating experiences, Matt and Kathleen believe their establishment fills a much-needed gap in Covington's growing landscape of entertainment and dining options.
Ripple is a laid-back wine bar featuring a rotating list of curated vintages and a seasonal small-plate menu. The kitchen is under the directions of Chef Will Smith, a Covington native. The bar, which is just around the corner from Madison Avenue, will also serve local brews and spirits. Their goal is to create a neighborhood gathering place that promotes wine's approachability through education and tasting. 
"We invested in a temperature-controlled cruvinet system to allow our guests the ability to taste more wine without ever compromising its quality." Says Matt. "With our cruvinet, we are able host more than 40 wines in house and offer each of them as a half glass pour, full glass, half bottle or full bottle." Kathleen adds.  
 Matt and Kathleen hope Ripple encourages more people to enjoy life, share experiences, and appreciate the beauty of wine. The name of the bar is inspired by one their favorite songs (not one of their favorite beverages). As the poet, Robert Hunter, writes, "reach out your hand if your cup be empty. If your cup is full may it be again." 
The Ripple Team worked with Orleans Development on the renovation of the nearly 100-year old space at 4 West Pike Street, and sought to incorporate much of the original architectural elements. 
Ripple Wine Bar is open from 4 – 11 PM, Monday through Thursday, and 4 PM until 1 AM on Fridays and Saturdays, with availability for private events on Sundays. They will accept reservations for their second-floor seating area as well as private events.
Visit  www.ripplewinebar.com