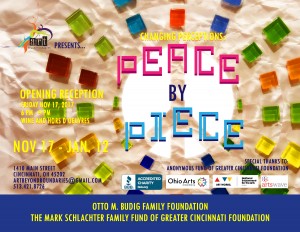 Art Beyond Boundaries Gallery invites you to attend the opening reception of our 12th annual inclusive show, "CHANGING PERCEPTIONS: PEACE BY PIECE" on Friday, November 17, 2016 from 6 to 9 pm. The Changing Perceptions series, which features the work of artists with and without disabilities, has continually grown in popularity as one of the regions' most vibrant fine art exhibits. The exhibition will last until Friday, January 12, 2018.
Join us at Art Beyond Boundaries Gallery for this special occasion. Experience the original art and meet featured artists. Art Beyond Boundaries will have a variety of paintings, sculptures, photography, and other media. Wine and hors d'oeuvres will be served. Admission is free.
Art Beyond Boundaries provides a professional, mainstream fine arts exhibition venue for artists with disabilities, located at 1410 Main Street in the historic Over-the-Rhine arts district. For more information, visit www.artbeyondboundaries.com, "friend" or "follow" the gallery on FaceBook and Twitter, and/or contact the gallery at 513-421-8726.