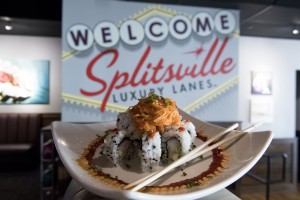 Feel like bowling but also want to hear some awesome music?  Looking for a fun place to go on a night out that can keep you on your feet while your toes are tapping?  Then look no further than Howl at the Moon/Splitsville Luxury Lanes!
On one hand, you've got your bowling at Splitsville: 8 luxury lanes that can hold up to 8 bowlers each, and boasts indoor and outdoor seating.  It's high energy fun in a comfortable atmosphere, and you're welcome to just drop in or make a reservation (as long as it's 24 hours in advance).  While bowling you can enjoy their full menu: the motto is, "Eat Like a King, Bowl Like a Champ."  And they aren't kidding!  Start with wings, sliders, two kinds of nachos or some French fries and chive dip, then move on to fresh sushi, pizza, sandwiches and salads.  There is definitely something for every palate!  Bowling will fire up your thirst, so check out the amazing cocktail menu – and take note, you can order that fancy drink in a variety of sizes: how about an 86 oz Blue Margarita?  Now THAT's a drink!
So you can bowl, but you can also sing and dance: it's the trifecta of entertainment!  Howl at the Moon provides a high-energy, live entertainment experience Wednesday through Saturday nights; it's a party with all the best dance hits that will keep you dancing in between throwing strikes!  Everything from classics to today's hits can be heard from the live band, and no matter what lane you're on in Splitsville, you can see the show.
Howl at the Moon/Splitsville Luxury Lanes is the best place in town for your special event as well.  They can host anywhere from 8 to 880 people in their 16,000-square foot facility, so whether it's an intimate birthday party or a full-size holiday extravaganza, this place has you covered!  There are so many options for your event to choose from; the website, www.howlsplitsville.com has floor plans and menus for you to explore, and if you have questions just call Abigail at (513)421-2695, ext. 2, for more information.  The holidays are coming up fast, so book soon if you want to throw the best office party in town!
If you'd like to hit a special event but not throw it yourself, Howl at the Moon/Splitsville Luxury Lanes also hosts their own events; Black Friday at the Moon, on Friday, November 24th, will feature great drink specials to help you recover from shopping, and their New Year's Eve Party is totally hopping with a variety of packages you can choose from to ring in the New Year.
The Banks is one of the coolest places in Cincinnati, and Howl at the Moon/Splitsville Luxury Lanes is definitely the highlight.  Drop by, bowl a few games, listen to awesome music, knock back a tasty drink while dining on fabulous food and have yourself the best night out ever at Howl at the Moon/Splitsville Luxury Lanes!