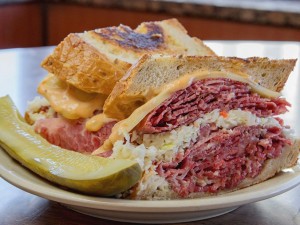 Great deli?  This is not New York, you're thinking.  Where could there be great deli in Cincinnati?  Well, now that Indianapolis' Shapiro's Delicatessen has come to town, Cincinnati finally has its world-class deli!
Shapiro's has been a fan favorite in Indianapolis since 1905, run by four generations of Shapiros who pride themselves on buying the best possible meats and produce from their neighbors and nearby businesses.  With the best sandwiches and other deli-style offerings, Shapiro's has always been a restaurant of integrity and honesty.  While the deli isn't kosher, it reflects the Jewish deli tradition in everything it serves, right down to the pickles.  The menu is loaded with classic deli sandwiches, traditional entrees, soups, salads, and fabulous desserts as well as the side dishes you expect, such as potato pancakes, potato salad and cole slaw.  There's so much on the menu, it's hard to choose!
And if you want to bring Shapiro's to your next gathering, they do catering.  Box lunches, party trays and even buffet options: no matter what your event needs, Shapiro's has it.  You can't go wrong with a huge platter of corned beef, right?
Located in the Crossings of Blue Ash, Shapiro's Delicatessen has hit Cincinnati and it's a dining experience you can't pass up.  Drop by, get a nosh and be a part of the tradition!