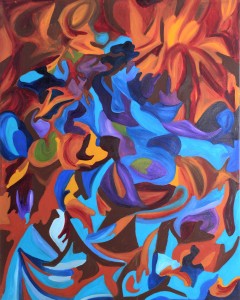 Art Beyond Boundaries Gallery   in conjunction with the Center for Interfaith Community Engagement at Xavier University invite you to attend a special solo exhibition, 'Victory of the Spirit', on Sunday Apr. 29, 2018 from 2 to 5 pm. This exhibition will showcase 12 paintings by Nevo Afek, a 19 year old visually impaired artist on the autism spectrum visiting from Eilat, Israel. The exhibition will run until May 25, 2018.
Nevo Afek creates his paintings without the full perspective of his canvas. His dedication to painting stems from his desire for personal expression and to become an inspiration for other artists with disabilities. Nevo will also showcase his work at the United Nations in New York on Apr. 26, 2018.
Join us at Art Beyond Boundaries Gallery to experience the original art and meet the featured artist. Wine and lite-bites will be served. Admission is free with valet parking at Lightborne on 212 E 14th St. Cincinnati, OH 45202.
Art Beyond Boundaries provides a professional, mainstream fine arts exhibition venue for artists with disabilities, located at 1410 Main Street in the historic Over-the-Rhine arts district. With your support, we can continue providing a gallery, workshops, programs, and services for our artists and people with disabilities. For more information, "friend" or "follow" the gallery on FaceBook , Twitter, Instagram, and/or contact the gallery.