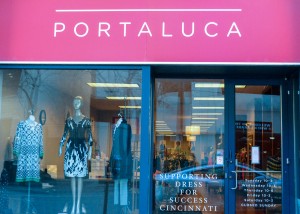 Portaluca is the downtown destination for new and new-ish women's clothing, shoes, and accessories located at 209 W. Fourth St.  All proceeds support Dress for Success Cincinnati.
Shop our beautiful new spring arrivals all month, and don't forget to check out the annual spring designer sale. The Designer sale kicks off on April 19, 2018; shoppers can find top brand designers and contemporary labels at deeply discounted prices.
We are the first in more than 128 Dress for Success affiliates worldwide to have an earned income venture, with all store proceeds supporting Dress for Success Cincinnati's services to empower disadvantaged women.
Shoppers can also drop off your Dress for Success donations at Portaluca during store hours.
Donations are utilized to support the Suiting program and the job readiness and personal development programs of our Career Center. Business professional wear means our women have great "interview" and employment clothing.  Good quality and condition non-business clothing and accessories stock the racks of Portaluca.
Portaluca opened to the public as 4th Street Boutique in 2002 to sell women's new and gently used clothing, shoes and accessories at affordable prices. In 2014, we rebranded as Portaluca.  Portaluca is the port of light or beacon for women in their journey toward self-sufficiency. It takes good qualities and multiplies them giving so many women the gifts of confidence, optimism, and warm kindness.
Portaluca is extraordinary fashion giving back to sisters in need.
Portaluca is located at 209 W. Fourth St., Cincinnati, Ohio 45202.