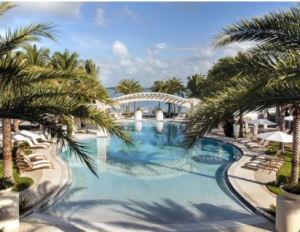 If you're looking for a warm getaway but not feeling confident about traveling internationally right now, I have some great tips to consider in the Keys! With cheap nonstop flights from many gateways in the U.S. to Miami, you can be out of your winter coat and in your tank top and shorts by early afternoon! 
I recommend renting a convertible from National Car Rental at Miami Airport (make sure to register for Emerald Club ahead of time so you can bypass the lines and go straight to your car.)  Put the top down, crank up your favorite play list and make your way to the picturesque and charming Playa Largo Resort & Spa.
Choose from a nicely appointed suite or bring along some friends and family and upgrade to one of their exclusive beach houses with your own pool and private beach area. With three restaurants on site, you can enjoy a wide range of cuisine as well as incredible sunset views each evening. You are also within walking distance to a wide range of other great dining experiences, coffee shops and healthy eateries nearby. 
If you're looking for a little more lively experience, head a little farther south and make your way to Ocean Key Resort in Key West. Located at the very end of Duvall street, you will have everything at your fingertips! One of the best restaurants in town, Hot Tin Roof, is located at the resort and offers incredible cuisine and stunning views! Hot Tip: I just had some clients return and they highly recommend Danger Charters Sunset Cruise. $85 per person includes unlimited wine and beer as well as several different hors d'oeuvres and a fabulously fun way to spend an evening on the water.
Give me a call so we can put some HAPPY on your calendar! 
Debbie Boyd
Travel Happy Agency 
513-275-8086
www.travelhappyagency.com