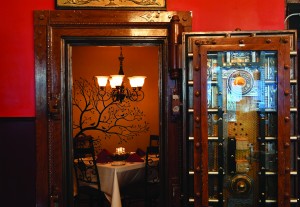 There's a new place in town to get the best steaks and seafood, and that place is Trotta's Steak and Seafood in Dayton, KY.  Located just across the Ohio River from Cincinnati, Trotta's has made quite the impact on the local dining scene.
Proud to offer hand-cut steaks and fresh, never frozen seafood, Trotta's is owned by Kathleen Trotta, a fine-dining expert who decided it was time to open her own place and show Cincinnati how quality is done.  Kathleen is all about keeping her menu fresh and different; new items are always appearing on the menu, which they print in-house, so that diners never get bored and always have something different to try.  She loves to create new recipes that keep her diners' taste buds hopping!
Trotta's will remind you of an old-school supper club, with a grand piano in the lobby and vintage décor.  More live music is coming, in addition to the pianist who plays, and they have a beautiful patio for al fresco dining.  They also have firepits you can dine around, lit up with candles and surrounded by umbrella tables; it's romantic and comfortable and perfect for a date night adventure.
In addition to offering outside dining, Trotta's also has VIP dining available.  Their private dining area boasts its own side door entrance, so the more famous among us can slip in unnoticed, and it has every amenity you need for a quiet – or not so quiet – private experience.
"I've got a great team, wonderful servers.  We work like family here," says Kathleen.  "And we've got great reviews online.  Check out Yelp or TripAdvisor: we're five stars!"
Trotta's is jampacked on the weekends, and not just with Cincinnatians and Dayton, KY patrons; people from Dayton (Ohio), Louisville, Indianapolis and more have embraced this restaurant and welcomed them to the community with open arms.
This holiday season, treat your family and friends to the newest dining experience in town: Trotta's Steak and Seafood.