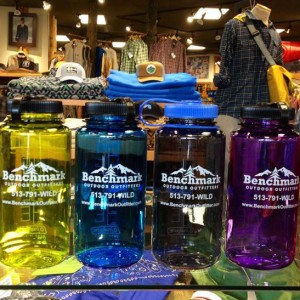 Cincinnati is lucky to be surrounded by the best nature has to offer; from hiking and water sports to skiing and camping, you have a wealth of activities to choose from.  The Benchmark Outdoor Outfitters have everything you need to make the most of whatever experience you embark on.
The Benchmark has been around since 1974, and as the outdoor industry has grown and developed, so have their offerings of outdoor gear and apparel.  With a focused and pressure-free sales environment, their staff focuses on what you need to get out and enjoy the outdoors as much as they do!  Their staff doesn't just sell what they carry, they share their experiences with you so you know you're not just getting the best gear, but incredible advice and opinions too.
The Benchmark has four core values: Adventure, Compassion and Service, Social and Environmental Responsibility and Learning Through Experience.  With these in mind, the dedicated staff at The Benchmark will help you create the perfect experience, from gear to clothes to guidance – there's no trip they can't help you get fully locked and loaded for!
Whether you need hiking gear, camping equipment, footwear and clothes, or just a chat about the best places around to backpacking, paddle or hike, The Benchmark Outdoor Outfitters should be your only stop.