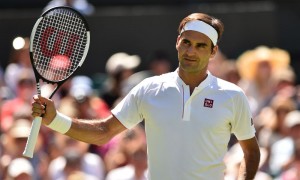 The Western & Southern Open hits Cincinnati again at the Lindner Family Tennis Center in Mason from August 11-19, and it's going to be the best place to be this summer.
Of course, there's the tennis: with top male players like Roger Federer, John Isner, and Rafael Nadal and female superstars like Serena Williams, Simona Halep and Caroline Wozniacki, you'll get to witness tennis being played at its peak and with fierce competition.  
But there is so much more to the W & S Open!  From entertainment and shopping to the finest in dining in Cincinnati, there's something for everyone.  This year, the Open is proud to announce that a brand new five-story building has been erected, dubbed the South Building.  This replaced the old building, and more than doubles the interior space for fans and amenities. Center Court seating jumped from 11,267 to 11,750: more seats means more fun for everyone!  Different levels will offer views of one or both marquee match courts, and the main feature is the split-level 2nd floor hosting a restaurant and bar, which opens up to cascading indoor, air-conditioned box seats, presumed to be the first in professional tennis. The extra-wide, 252 stadium seats sit behind glass and have access to the adjoining restaurant and bar.
 If you like an outdoor box seat, the 3rd floor boasts 396 new outdoor box seats and an interior space with concessions, a bar, gathering areas and restrooms. Need a little something more special? The 4th floor includes six all-inclusive suites with 126 total seats and a shared space for food and refreshments. The 5th floor offers a state-of-the-art broadcast and production center.
 Not that you can ever get too much tennis, but you do need a break from the courts, you can relax and listen to the original bands playing on the Dayton International Airport Stage or in the Wine Garden.  Not cover bands, but eclectic, award-winning musicians.  It's music at its finest.
Hungry?  You can find sports-arena food, but if you want a foodie experience, the Open will have 14 locally-owned restaurants preparing their signature dishes fresh every day from James Beard-winning chefs, and you won't need a reservation!  Feeling like tacos?  Hit up Mazunte.  Need a gyro?  Kala Greek Grill's got you covered.  Grab a specialty salad from Prime Cincinnati, or a burger from Flipside. There's also Skyline Chili, LaRosa's Pizzeria and Graeter's waiting to bring you the taste of Cincinnati!
So you've watched a few matches, had a snack, tapped your toes to some tunes, and now you're thirsty.  Whether it's beer or bubbles, or anything in between, the W & S Open has what you want on tap.  The Miller Ultra Legends Bar and Rhinegeist Brew Balcony are perfect for those looking for a tasty beer, and the Moet Champagne Bar for those who feel like toasting the best in tennis.  There's also the Robert Mondavi Private Selection Wine Garden, as well as White Claw, serving up hard seltzers.  
Eat, drink, and then: shop! Time to go shopping at the Open's retail center.  The 20,000 square foot retail plaza has it all, from tennis apparel and gear to jewelry and sunglasses.  The Midwest Sports tent will have everything you need to outfit yourself like a tennis pro. 
There's nothing like a day at the Western & Southern Open.  Be sure to read up on their bag policy on their website, www.wsopen.com.  It's important to know what you can and cannot bring into the Open.  Be a part of this Cincinnati sports tradition – get out to the Western & Southern Open!