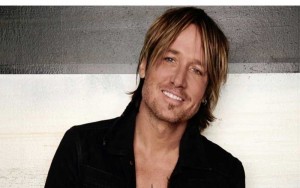 Music fans, you're in luck – Four-time Grammy award winner Keith Urban is coming to Cincinnati this August!
Urban will be bringing his "GRAFFITI U WORLD TOUR 2018" to Riverbend Music Center for one night only, on Sunday, August 19th.  Cincinnati is one of his stops on his 58-city tour, and if you've never been to a Keith Urban show, you don't know what you're missing.  Urban's shows are electrifying; they're unexpected, unpredictable and have been hailed by media around the world as a "concert experience not to be missed."  
The show will not only feature many of Urban's 23 #1 songs but will deliver brand new songs that have never been performed live!  Plus, this all-new concert production promises to hit new heights of spectacular.  The tour will feature special guest country pop singer Kelsea Ballerini as Urban's supporting act.
Urban is excited to bring this new show on tour and introduce new music to his fans. "I've been full-on writing, recording, collaborating and creating with some incredibly talented people for GRAFFITI U, a lot of whom I've never worked with before," said Urban. "I can hear how some of the songs will translate live already, which really makes putting on a new show so exhilarating." 
Ballerini is more than his supporting act, she's one of his biggest fans. "I remember hearing Keith Urban songs that stopped me in my tracks and made me want to drop everything and chase that kind of lyric and heart-filled artistry," she says. "He's the best in the business and I can't wait to fangirl and learn from him this year. Truly an honor to tour with him."
Tickets are on sale now at www.riverbend.org.  Doors open at 6:00pm and the show starts at 7:30pm.  Riverbend Music Center is a fabulous concert venue, with both pavilion and lawn seating.  Parking is included in the price of your ticket.
For all official Keith Urban tour news including show dates and where to purchase tickets, go to www.keithurban.net. Hope to see you rocking out at Riverbend with Keith Urban on August 19th!