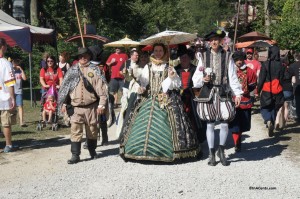 Have you ever been to the Ohio Renaissance Festival?  If not, you have no idea what you've been missing!  From the food to the entertainment to the atmosphere, this is an event you have got to try.
Located in Waynesville, OH, the Ohio Renaissance Festival is open Saturdays and Sundays until October 29, 10:30am to 6:00pm, all on a 30-acre permanent village that has been authentically and historically re-created in the flavor of 16th Century England. The festival features nearly 100 shows daily on 12 stages, so it's hard to choose what to see first!  You can witness dueling swordsmen or daring fire jugglers amongst the strolling minstrels, or take in the hilarious Mudde Show or pull up a stool at the Aleing Knight Pub for music that'll get your toes tapping.  As you wander the quaint village of Willy-Nilly, you can mingle with the "locals" and you might even catch sight of Her Majesty Queen Elizabeth strolls the paths.  Of course, nothing beats a full-armored joist!  Those hard hits are delivered three times each day by the gallant knights and gorgeous steeds of the Knights of Valour.
The Artisan Marketplace is definitely a don't-miss. The Ohio Renaissance Festival is home to one of the largest and most unique open-air Marketplaces in Ohio, with unique shoppes that bring to mind the ambiance and charm of a time over 400 years ago. There are over 150 master artisans and craftsmen from all over the country, who love to demonstrate the lost art of their crafts.  In fact, all craft items must be handmade and meet specific criteria to be allowed to be featured at the festival.  Glassblowing, candle making, stone carvers, boot makers, pottery, stained glass and more await you in the Marketplace.
Got the kids with you?  Of course you do!  They'll love all the different rides and games available, and adults can enjoy them too!  Take a try at the Jacob's Ladder or the Storm the Castle Climbing Tower, then see if you can take on the Barrel of Bedlam!
All that shopping, playing and being entertained makes you hungry.  And that's good – because there is so much to choose from to eat at the Ohio Renaissance Festival!  Traditional festival eats like roasted turkey legs, roasted corn on the cob, ice cream and bratwurst abound, plus new favorites like Middle Eastern falafel and shawarma to a travelling menu inspired by Marco's travels west on the silk road, featuring vegetarian fried rice.  It might take you all day, but you've got to sample it all!
Tickets are available at the gate or online; go to http://www.renfestival.com for ticket pricing, directions and all the information you need to make your day at the Ohio Renaissance Festival the best adventure ever.